JNU students' protests get support from universities across India
Feb 17, 2016 02:47 PM IST
The ripple effect of protests against the arrest of Jawaharlal Nehru University students on sedition charges is visible in a wave of demonstrations in educational institutions across India.
The ripple effect of protests against the arrest of Jawaharlal Nehru University students on sedition charges is visible in a wave of demonstrations in educational institutions across India.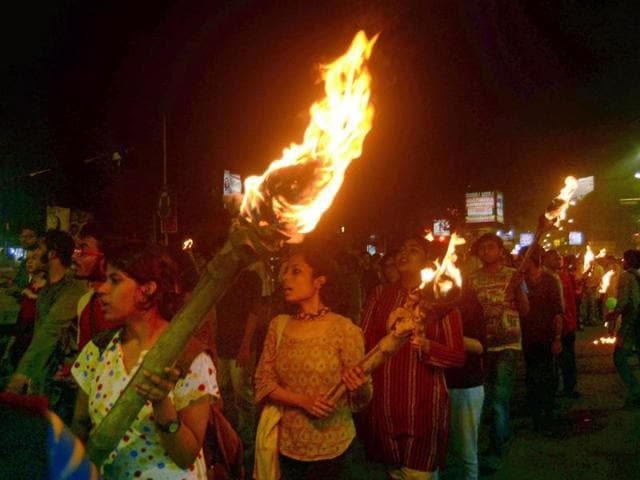 Delhi Police arrested JNU student union president Kanhaiya Kumar last week on charges of sedition for allegedly organising an event against the hanging of Parliament attack convict Afzal Guru.
Within a week, hundreds of students are on roads lambasting the police for their "hasty" action and "premature" crackdown. Many others, though, have supported the police action and decried the JNU students.
On Wednesday, more Left Union student organisations plan to protest with a focus on their strongholds in West Bengal and Kerala, the two states going to the polls in April-May this year.
Delhi University
A group of Delhi University students are extending their support to the JNU protests and have organised a public meeting at the Faculty of Arts in North campus at 1pm on Wednesday.
The Facebook page of the event has 625 people going for the meeting as of now. The organisers said they do not support the kind of slogans shouted in the February 9 event, but the government's action in JNU was unacceptable.
"Just because we have a union led by ABVP in DU doesn't mean we will keep silent. We can't let ABVP or BJP or RSS to dictate to us what to speak, issue us certificate on nationalism and assault us if we don't qualify," said Gaurav Jain, one of the organisers.
The FB page of the event said, "We can't let this happen to us. We must unite and stand firmly in support of JNU and its student's union President Kanhaiya Kumar. Because if we don't, the brute force of this government and other fascist elements would reach our campus and swallow our freedom to express our opinion without any fear and challenge the high and mighty."
The organisers maintained by showing solidarity with JNU, they are not endorsing anti-nationalism or siding with terrorism. "We do condemn the anti-India slogans chanted at the JNU campus. However, Kanhaiya Kumar was not involved in either organising the event or chanting slogans. He himself has condemned the act. Then what qualifies his arrest?" the organisers said.
Meanwhile, the ABVP-led Delhi University Students Union (DUSU) said they will be protesting outside JNU. "We demand arrest of Umar Khalid and nine more students who did the unacceptable act," said Satender Awana, president of DUSU.
West Bengal
In Kolkata, students of the Jadavpur University shouted slogans on Tuesday against Afzal Guru's hanging, and organised a torch rally to show solidarity with Kumar.
The call for the rally was given by students affiliated to different Left parties but it resulted in a major controversy as there was a placard in support of Afzal Guru and slogans like 'Jo Kashmir Mange Azadi' "Jo Manipur ne Manga Azadi" and 'Jo Ishrat ne Manga Azadi' were also chanted.
Watch | Jadavpur University students protest against the government
In a quick damage control measure, the placard was removed and students shouting slogans in favour of Guru were asked to shut up.
Sarnendu Barman, general secretary of the Faculty of Engineering and Technology Students' Union (FETSU), said although FETSU didn't support the 'Pakistan zindabad' or any such kind of slogans, but police atrocities on the students cannot be tolerated. As JU students have bitter experiences of police atrocities inside the university campus, they could relate to the JNU incident, they said.
Jammu and Kashmir
In Jammu, students belonging to the Akhil Bhartiya Vidyarthi Parishad were on the streets claiming anti-India slogans by JNU students couldn't be tolerated and justified their arrest.
Hyderabad
At Hyderabad's Osmania University, ABVP activists staged a protest march against the arrested JNU students, dubbing the premier Delhi university as anti-national.
Mumbai
The Joint Action Committee of students formed in Mumbai University after the suicide of Dalit scholar Rohith Vermula has also been protesting against the JNU arrests.
Many wore black head bands to show their anger. "Students who have questioned capital punishment and hanging of Afzal Guru are being questioned by pseudo nationalists," the action committee said in a statement.
Kerala:
Left-backed student organisations held a solidarity march in Kerala University on Monday, the day journalists and JNU students were attacked in Patiala House Courts in Delhi.
Chandigarh
Students of Panjab University came out in support of JNU students, saying police should not have been allowed in the campus. There was also a minor scuffle between members of Students for Society and ABVP activists in the university campus when the former came out to protest against the arrest.
A faculty member Janaki Srinivasan was also present during the protest and drew a parallel between JNU incident and suicide by Vemula, terming them as example of "intolerance" by the right-wing organisations.
Uttar Pradesh
While students of the Aligarh Muslim University staged a protest walk seeking the immediate release of arrested students in the campus on Tuesday, those from a technical education institute in Moradabad wore black clothes to describe JNU students as anti-national.