Mehbooba assures Irani of students' safety: Latest updates on NIT row
Union minister Smriti Irani said on Wednesday Jammu and Kashmir chief minister Mehbooba Mufti has assured her of the safety of students at Srinagar's National Institute of Technology.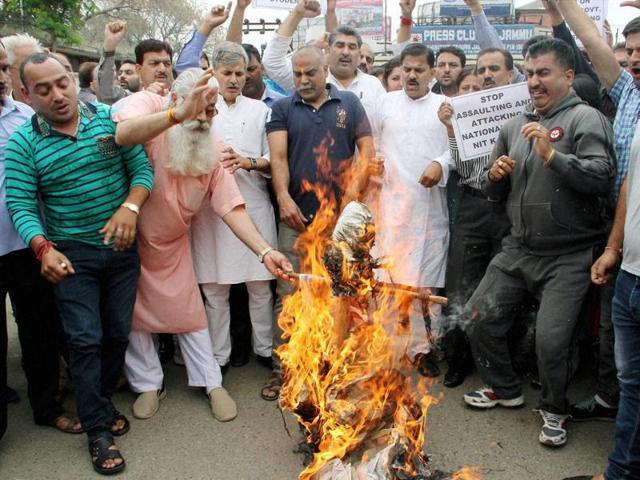 Updated on Apr 06, 2016 09:40 PM IST
Union minister Smriti Irani said on Wednesday that Jammu and Kashmir chief minister Mehbooba Mufti has assured her of the safety of students at Srinagar's National Institute of Technology.
Fresh tension gripped the campus after agitating outstation students refused to cooperate with a visiting central team.
Students demanded action against NIT officials who are allegedly involved in "anti-national" activities and had earlier threatened them.
Home minister Rajnath Singh, who is campaigning in West Bengal for assembly polls, said Irani informed him about the situation.
Here's what happened today
1) A three-member team of the human resource development (HRD) ministry, which arrived in Srinagar this morning, held talks with the agitating students. The team comprised Sanjeev Sharma, director (technical education) in the HRD ministry, deputy director finance Fazal Mehmood and MJ Zarabi, chairperson of the board of governors of NIT.
2) The team met the NIT director and then the protesting non-local students who have been boycotting classes for two days. Around 500 non-local students of third year and some freshers have launched the protest, according to NIT.
Read: Srinagar: Non-Kashmiri students of NIT clash with police, CRPF deployed
3) In Surat, HRD minister Irani said: "My officers are in touch with the agitating students and their family members. One or two students said they wanted to go back home for which my ministry is making arrangements." She sought to allay apprehensions of the students who feared that the agitation will have a bearing on their academic performance as exams are due to start next week.
4) Home minister Singh said: "There will be no problem. I appeal to all students of NIT that they should remain assured that there will be no harm to them."
5) Trouble started on Tuesday when third year students and some freshers took out a march shouting slogans. Police stopped them at the main gate, and clashes erupted. The students union accused police of entering classrooms and beating up students. After the incident, the Central Reserve Police Force was deployed.
6) The BJP condemned the use of force by Jammu and Kashmir Police against NIT students and demanded action against the "guilty" personnel. The party's reaction came just two days after its ally and PDP chief Mehbooba Mufti took oath as the CM.
7) Celebrations by Kashmiri students after India's defeat against the West Indies in T20 World Cup late on Thursday night pitched the non-local students against the locals. Non-Kashmiri students were angry after local students rejoiced when Andre Russell hit the winning runs against India in Mumbai.
8) Hardline Hurriyat Conference chief Syed Ali Shah Geelani vouched for safety and security of outstation students. "Our policy and our religion teaches us that we should not have any grudge or enmity against anybody on the basis of religion, race, caste or linguistics," he said.
9) National Conference leader Omar Abdullah said the matter needs "tactful handling" and the state government should look into it "without back seat drivers".
10) The Press Council of India (PCI) served notice to NIT for allegedly imposing restrictions on media from covering of news in the campus. Taking suo-motu cognizance on the matter, the council sought a reply on the matter within two weeks.
(With agency inputs)
Read: Clashes at NIT Srinagar: Students 'kicked, punched', boycott classes
Close Story