Modi says reservation for Dalits will stay, criticises rivals' lies
Prime Minister Narendra Modi said on Monday that his government will make no changes in the reservation policy for Dalits and accused opponents of spreading lies on the politically sensitive issue.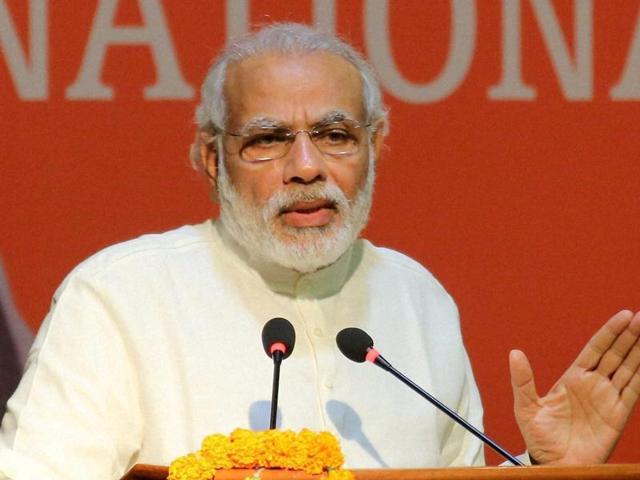 Updated on Mar 21, 2016 09:26 PM IST
Prime Minister Narendra Modi said on Monday that his government will make no changes in the reservation policy for Dalits as he accused opponents of spreading "untruths" on the politically sensitive issue.
Modi said nobody can snatch the "rights" of Dalits and the poor, stressing the previous BJP governments at the Centre never made any move to abolish reservation.
The PM's speech comes ahead of elections in four states and a union territory over six weeks beginning April 4, in a test of whether the BJP can expand its footprint in regions where it has been traditionally weak.
"When (Atal Bihari) Vajpayeeji became PM, a campaign was run saying reservation will be abolished. He was the prime minister for two terms and nothing of that sort happened.
Read | The RSS's stand on job quotas, surprisingly, makes a lot of sense
"BJP has ruled in Madhya Pradesh, Gujarat, Maharashtra, Punjab and Haryana for many years and the quota policy never suffered a scratch. Yet untruths are being spread. People, who are only interested in doing politics, fail to come out of it," Modi said, in an apparent dig at the Congress party.
He laid foundation of Ambedkar National memorial in Delhi and said Baba Saheb Ambedkar, the architect of Indian Constitution and a supporter of Dalit rights, was a "Vishwa Manav (global personality)".
Delivering the Ambedkar Memorial Lecture, Modi charged rivals with "spreading confusion and lies", and said such things "weaken" the social fabric of the nation.
The BJP suffered a crushing defeat in the Bihar elections last year, and analysts said RSS chief Mohan Bhagwat's demand for the review of quota policy contributed to the loss.
Parties targeted Rashtriya Swayamsevak Sangh (RSS), considered the ideological parent of the BJP, and launched a campaign ahead of the Bihar polls.
Read | Jats give Haryana govt more time for quota, won't protest now
In the aftermath of the defeat, Bhagwat, however, said in January that reservations should continue as long as there is inequality and discrimination in the society.
Modi too said at a rally in Tamil Nadu last month that lies were being spread on the government's stand on quota.
On Monday, Modi said for some people it is "indeed difficult to digest defeat", a swipe at the Congress that fared poorly in the 2014 Lok Sabha polls.
"Some people don't like us. They don't even want to see us. They get fever on seeing us and in fever, one loses control of mind.
"That is why they say all kinds of lies and all absurd things," he said.
(With agency inputs)
Close Story
Personalise your news feed. Follow trending topics