Pappu Yadav, once accused of murder, now among 'best performing' MPs
Mar 22, 2015 02:22 PM IST
One spent over five years in jail as a life term convict in a murder case before he was acquitted by the Patna high court and returned to electoral politics.
One spent over five years in jail as a life term convict in a murder case before he was acquitted by the Patna high court and returned to electoral politics.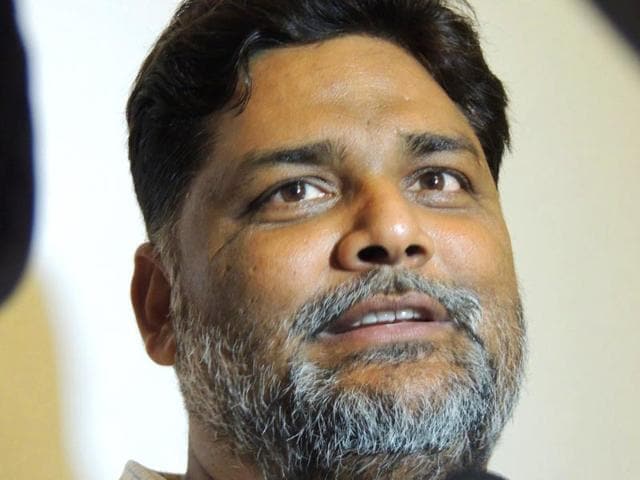 Another one admits to having become a Lok Sabha 'legislative activist' to honour the memory of her late husband who was murdered over 16 years ago.
A third one has made a career out of challenging the might of an incarcerated ex-MP who, at one time, was the most feared 'don' of north Bihar.
Surely, the three 'best performing' Bihar MPs in the 16th Lok Sabha make for a very interesting group of 'improbable legislative achievers', mainly on account of their profiles that belie popular perceptions as to who were likely to be the best legislators.
Performance data culled by PRS Legislative Research, an 'independent research initiative', which closely tracks parliament, shows Bihar MPs Rajesh Ranjan aka Pappu Yadav, Rama Devi and Omprakash Yadav, have excelled in three separate parameters of LS activity.
Pappu Yadav, the RJD MP from Madhepura in north Bihar, has to his credit participation in 57 Lok Sabha debates in the present house so far, the highest for any of the 40 Lok Sabha MPs from Bihar. "In fact, it is the highest for any sitting MP in the entire 16th Lok Sabha", claimed Yadav.
The thing about Yadav, 53, is that he spent over five years in jail (2008 to 2013) as a life term convict in the June 1998 murder of Purnia (eastern Bihar) CPI-M leader Ajit Sarkar.
Convicted in February 2008, he finally got out of jail after the Patna high court upheld his appeal and acquitted him in May 2013.
Having defeated JD (U) president Sharad Yadav in the April-May 2014 election for the Madhepura Lok Sabha seat in north Bihar, Pappu Yadav, now in his fifth term in parliament, said he was using legislative activism to put all his bad memories behind him.
"I am driven by my zeal to give the voiceless common man a voice in parliament", Yadav told HT late on Saturday, adding that his commitment to the needy had shone through even during his most difficult years of incarceration.
"On Lok Sabha speaker's appeal, I donated Rs 4 crore out of my MPLAD fund for rehabilitation of the victims of the 2008 Kosi disaster, the biggest sum tendered by any MP. This happened while I was in jail", he recalled.
In August 2008, the Kosi river had broken its banks to cause widespread devastation in several districts of north Bihar, including Purnia and Madhepura, Pappu's political playgrounds of many years.
"To all the unfortunate people, I am a giver. I also donated Rs 1 crore each for the benefit of the victims of the (January 2001) Bhuj (Gujarat) earthquake and (June 2013) Uttrakhand flood", Pappu recalled.
Rama Devi, 66, the BJP MP from Sheohar in north Bihar, has placed herself in the top league by asking the maximum number of questions among all Bihar MPs, – 131 in all, over the past 10 months of the 16th Lok Sabha. She called the show a 'repeat performance'.
"During my previous tenure in the Lok Sabha (2009-14), I had won the 'sansad ratan' award for my stellar show by way of activity in the house", said Devi, who has been a BJP MP for the past two terms (2009-14 and 2014 till date).
But Devi's first entry into the Lok Sabha on Lalu Prasad-led RJD's ticket in March 1998 was marred by a great personal tragedy.
In June that year, her husband Brij Bihari Prasad, a minister in the then Rabri Devi government in Bihar, was murdered on the premises of the Indira Gandhi Institute of Medical Sciences, a super specialty hospital located in western Patna.
"My election to the Lok Sabha didn't go well with my detractors who killed my husband to get back at us. Through my legislative activism, I am only fulfilling the unfulfilled dreams of my late husband", Devi told HT Saturday afternoon, explaining what drove her.
Omprakash Yadav, the BJP MP from Siwan, also in north Bihar, is the third notable legislative performer in the 16th Lok Sabha, as per PRS data.
He has made his mark by moving the highest number of private member bills – 10 in past 10 months, well ahead of the second placed Maharajganj MP Janardan Sigriwal, with six bills to his credit.
Omprakash, 50, is widely known as one who defeated Hena Shahab, wife of feared north Bihar 'don' and ex-MP Mohammad Shahabuddin, in the 2009 2014 Lok Sabha poll. On the first occasion he won as an independent and then as a BJP nominee in the LS poll last year.
Hena Shahab had entered the poll arena after her husband was debarred from contesting elections following his conviction in a criminal case. He is in prison at present.
Two of the 10 private members bills, Omprakash recalled he had moved, purport, as he put it, "to ameliorate the living conditions of slum dwellers and for seeking special central assistance for the uplift of dalits in Bihar".
He credits his 'success' to luck. "Private members' bill applications are chosen through a lottery system. It was sheer luck that I won this lottery on 10 occasions over the past 10 months", the MP from Siwan told HT Saturday.
On the flip side of the performance ratings are four Bihar MPs who have not participated in any debate or asked any question or moved any private member's bill in the 10 months of the present Lok sabha.
PRS legislative research identifies them as Janak Ram (BJP-Gopalganj), Shatrughan Sinha (BJP-Patna Saheb), Chaudhary Mehboob Ali Kaisar (LJP, a BJP ally-Khagaria) and Mohammad Taslimuddin (RJD-Araria).