JNU row: Insult to India won't be tolerated, say Irani, Rajnath Singh
Home minister Rajnath Singh criticised on Friday a group of students at Delhi's Jawaharlal Nehru University for allegedly shouting anti-India slogans as police lodged a sedition case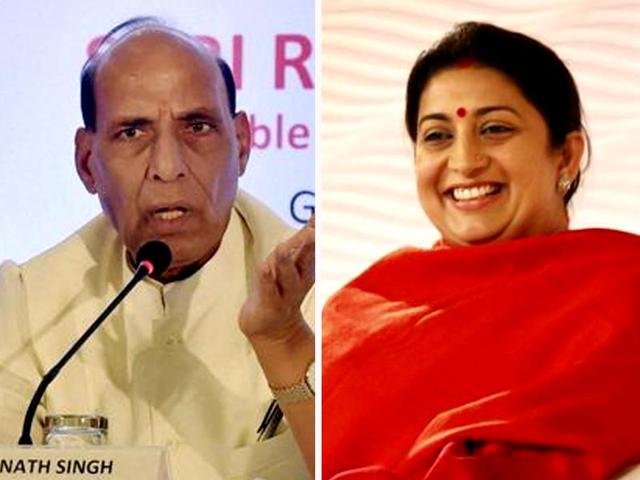 Updated on Feb 12, 2016 05:04 PM IST
Union home minister Rajnath Singh came down heavily on a group of students at Delhi's Jawaharlal Nehru University on Friday for allegedly shouting anti-India slogans as police arrested the institute union's president on charges of sedition and criminal conspiracy.
Reacting to the same incident, Union human resource development minister Smriti Irani told media: "nation can never tolerate any insult to Mother India".
Singh said he instructed police to take strict action against the students, who organized a controversial event in JNU to protest against the hanging of 2001 Parliament attack convict Afzal Guru, and shouted anti-India slogans.
"If anyone raises anti-India slogans and tries to raise questions on the nation's unity and integrity, they will not be spared," Singh told news agency ANI.
"I have given necessary instructions to Delhi police commissioner about what happened in JNU."
These strong remarks came a day after Delhi Police lodged an FIR and examined video footage from the event titled, "A country without a post office" after the Akhil Bharatiya Vidyarthi Parishad and east Delhi BJP MP Maheish Girri filed a complaint. Police also arrested JNUSU president Kanhaiya Kumar.
In January, the NDA government was embroiled in another student agitation in Hyderabad where Dalit scholar Rohit Vemula committed suicide.
The Jawaharlal Nehru University Students Union (JNUSU) disassociated itself from the event while the vice-chancellor called for an inquiry by the proctor, saying the event was an act of indiscipline. The JNU administration had cancelled permission for the event.
"Strict action should be taken against the offenders so that such shameful and anti-India activities are not repeated," Girri said.
The event also triggered a fierce debate on social media as #ShutDownJNU trended on Twitter and Facebook with many demanding jail time for the organisers.
Close Story