Gangnam is passe, this is Chris Gayle's new dance for Indian Premier League 2017
Chris Gayle celebrated his first T20 half-century in a while in Royal Challengers Bangalore's game in a special way while Gujarat Lions rival Brendon McCullum added to Indian Premier League's flying fielding efforts.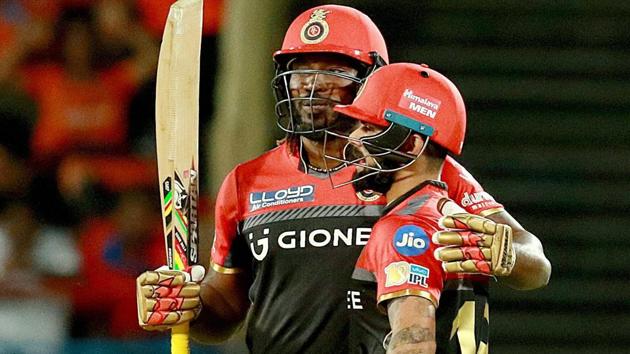 Updated on Apr 19, 2017 07:22 PM IST
Chris Gayle doesn't just hit the ball the hardest, the big Jamaican also comes up with the most eye-catching celebrations in the Indian Premier League. (GL vs RCB: T20 MATCH HIGHLIGHTS)
On Tuesday, after completing his half-century in the course of his astonishing 38-ball 77, Chris Gayle switched his old 'Gangnam Style' for a new celebration, which is called the 'Salt Bae' style. (GL VS RCB: SCORECARD)
The Turkish chef's style of sprinkling salt in his steak-seasoning videos have proved a massive hit, and Chris Gayle is not one to fall far behind in the fashion quotient. And all Royal Challengers Bangalore fans would have loved that celebration, not to talk of skipper Virat Kohli, who too was going great guns at the other end.
Virat Kohli struck a 50-ball 64 to power RCB to 213/2.
Gujarat Lions' Brendon McCullum, the ultimate tattoo warrior who scored the first century in the inaugural Indian Premier League, too tops the list when it comes to power-packed displays. And that is not limited to batting.
In the eighth over of the Royal Challengers Bangalore innings, Chris Gayle smashed Ravindra Jadeja. Brendon McCullum pulled off a stunning, running, one-handed catch diving to his right at the long-off boundary.
However, as he rolled over with the catch, the brim of his floppy hat touched the boundary rope, and it was ruled a six.
Had the catch been legal, it would have given all those great ones taken, especially Chris Lynn's special effort to dismiss AB de Villiers a run for its money.
Chris Gayle was on 38 when he struck that shot, and both Ravindra Jadeja as well as McCullum, whose body was away from the rope, will rue the missed chance.
Close Story