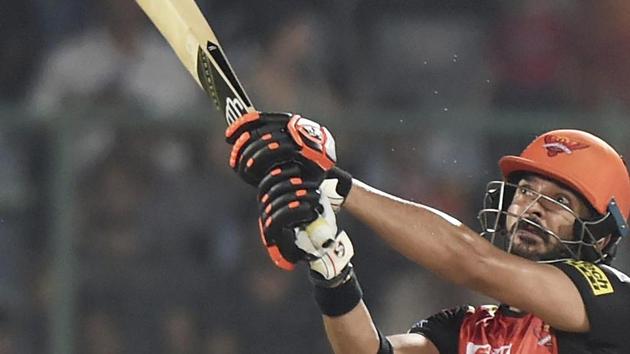 Yuvraj Singh relieved despite Sunrisers Hyderabad's loss to Delhi Daredevils
Delhi Daredevils (DD) snapped their five-match losing streak in the Indian Premier League (IPL), beating defending champions Sunrisers Hyderabad (SRH) by six wickets on Tuesday. Corey Anderson top-scored for Daredevils while Yuvraj Singh scored 70 for Sunrisers.
UPDATED ON MAY 03, 2017 09:45 AM IST
Yuvraj Singh is again back to what he does best -- torment rival bowlers. His 41-ball 70 against Delhi Daredevils (DD) was a welcome sight for his fans and his team Sunrisers Hyderabad (SRH) in the 2017 Indian Premier League (IPL). (Match highlights)
The quick-fire knock ended a series of low scores that seemed to mar Yuvraj Singh's campaign. (Scorecard)
"It was important for me to get some runs," said Yuvraj of his innings that helped Sunrisers Hyderabad score 185/3 against Delhi Daredevils. "In the last three to four innings, I did not get enough time in the middle. When we were batting in the first innings, it was a bit tough as the ball was gripping. So, I thought of playing till the last and went for the big shots after the 16th over."
The middle-order batsman was dropped at 29 by Sanju Samson in the 17th over, when SRH's score was 129/3. "I was lucky, I got dropped. I could cash in on it in the later overs," said Yuvi.
However, Yuvraj's innings was not enough to lift SRH to a win as Daredevils prevailed in 19.1 overs.
"I think we gave a lot of runs in the first six overs. The dropped catch (of Karun Nair) was crucial. If we could have taken early wickets, would have been key. It wasn't a great start by our bowlers and we did not picked wickets in the middle. All of their guys got 30-40 runs," he said.
SRH used three fast bowlers in Bhuvneshwar Kumar, Siddharth Kaul and Mohammed Siraj against Delhi Dardevils. Yuvraj felt the absence of veteran Ashish Nehra could have been a crucial factor.
"We have been relying a lot on Bhuvi and Rashid (Khan). When Ashish (Nehra) is fully fit, it will make our bowling line up a lot more stronger. Mohammed Siraj is a young guy while it has been a huge learning curve for Siddharth Kaul. Both have been bowling well," he said.
Close