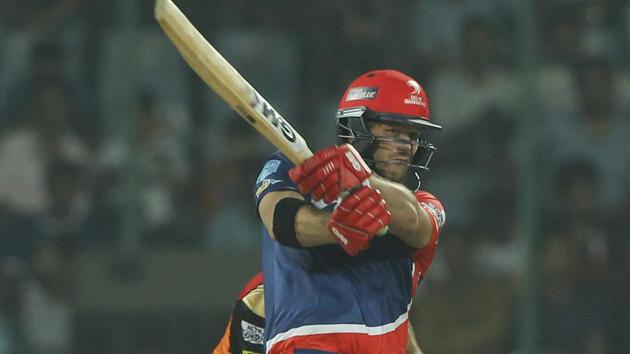 DD win by 6 wkts - Highlights, Delhi Daredevils vs Sunrisers Hyderabad, IPL 2017
Delhi Daredevils rode Corey Anderson's 24-ball 41 to beat Sunrisers Hyderabad by six wickets in their IPL 2017 match at the Feroz Shah Kotla Stadium in New Delhi today. With the win, Delhi moved to sixth position with six points from nine matches. Get highlights of Delhi Daredevils vs Sunrisers Hyderabad here.
UPDATED ON MAY 02, 2017 11:52 PM IST
Delhi Daredevils beat Sunrisers Hyderabad by six wickets in their IPL 2017 match at the Feroz Shah Kotla Stadium in New Delhi today. Put to bat, SRH scored 185/3 riding Yuvraj Singh's 41-ball 70. Delhi Daredevils however chased down the total, thanks to a crucial unbeaten 24-ball 41 from Corey Anderson. Karun Nair chipped in with 39, Rishabh Pant scored 34 while Shreyas Iyer scored 33. Get highlights of Delhi Daredevils vs Sunrisers Hyderabad here. (FULL SCORES | LIVE STREAMING INFO | STANDINGS)
11.46 pm IST: That's it from here. Do join us for tomorrow's live coverage of Kolkata Knight Riders vs Rising Pune Supergiant at Eden Gardens, Kolkata. Good night.
11.43 pm IST: Mohammed Shami: "I'm playing after a long time, and this performance will lift my confidence levels. In the T20 format, you don't think about runs as a bowler. We just wanted to use the new ball well, not give too much pace, so it would be good for us to mix up our pace. I had different plans for each batsman - whether the batsman moves around or stays still, I stick to my plan, and the rest comes down to luck."
11.42 pm IST: Mohammed Shami is Man of the Match.
11.41 pm IST: Delhi Daredevils captain Karun Nair: "Very happy. I think the bowlers gave it their all, and if we had caught that catch they wouldn't have got that far. We told ourselves, we are a young team, and we should play like a young team. Go out there, play without fear. Bit disappointed to get out after getting a start, but glad to get some runs finally and hoping to kick on from here."
11.32 pm IST: With this win, Delhi moves up to sixth with 6 points from nine matches. Sunrisers Hyderabad are third with 13 points from 11 matches.
11.31 pm IST: SRH captain David Warner: "It's been a little bogey, playing away. The wicket sort of held up a little bit, early on, and we thought 186 was a tough target. They played really well to win it. The slower balls were holding up a little, and we didn't want to be too predictable, but we maybe bowled too many quicker balls today."
11.30 pm IST: This was Delhi Daredevils' first win against Sunrisers Hyderabad at home.
11.25 pm IST: And DD win it! Anderson swats Henriques for a boundary. DD win with five balls to spare.
11.24 pm IST: DD 185/4 in 19 overs. Need 1 off 6
11.22 pm IST: SIX! Short from Kaul. Easy for Morris.
11.21 pm IST: Kaul concedes two off two. DD have it easy now. SRH need a miracle.
11.19 pm IST: DD 174/4 after 18 overs, need 12 off 12.
11.18 pm IST: SIX! Bhuvi not getting it right this match. Too wide, giving Anderson freedom to swing his arms.
11.16 pm IST: FOUR! Bhuvi tries a yorker but Anderson, trying to get his leg out of the way, gets an inside edge.
11.13 pm IST: FOUR! Morris picks the short and slower one and pulls it between deep midwicket and deep backward square leg. DD 162/4, need 24 off 18. Anderson 23, Morris 6.
11.11 pm IST: SIX! Anderson swings his bat, deposits Siraj over square-leg boundary.
11.10 pm IST: Siraj bowling full. SRH won't mind the singles as long as the boundaries are prevented.
11.06 pm IST: Iyer tries to make room but Bhuvi follows him with a shorter delivery. Iyer almost guided it straight to Siraj.
11.05 pm IST: OUT! Bhuvneshwar strikes! S Iyer c Siraj b Kumar 33. DD 148/4 after 16 overs, need 38 from 24 balls.
11.04 pm IST: Bhuvi is back. Concedes four runs in three balls.
11.01 pm IST: Lovely over from Rashid Khan,. Only five runs from it. DD 142/3 after 15 overs, need 44 off 30. Iyer 29, Anderson 13.
11.00 pm IST: Good bowling from Rashid Khan. Two runs in three balls so far.
10.58 pm IST: SIX! Kaul bowled fuller to Anderson. Anderson clears his front leg and smashes him over long-on. DD 137/3 after 14 overs. Need 49 off 36 balls.
10.53 pm IST: End of 13th over. Delhi Daredevils 125/3, need 61 off 42. Iyer 23, Anderson 2
10.53 pm IST: SIX! Shorter from Yuvraj, gives Iyer enough time to rock back and pull him.
10.52 pm IST: SIX! Iyer lays into Yuvraj.
10.50 pm IST: After 12 overs, DD 109/3. Need 77 off 48. Iyer 9, Anderson 0.
10.48 pm IST: OUT! R Pant b Mohammed Siraj 34. DD 109/3 in 11.4 overs. Siraj was too quick for Pant as he breached his defence before even the bat came down.
10.47 pm IST: SIX! Pant swivels and almost loses balance but not before depositing him over suqre-leg boundary.
10.45 pm IST: DD 101/2 after 11 overs, need 85 off 54. Pant 27, Iyer 7
10.41 pm IST: DD 96/2 after 10 overs. Pant 24, Iyer 6. DD need 90 from 60.
10.41 pm IST: FOUR! Iyer this time. Easy boundary towards long-on.
10.40 pm IST: FOUR! Full and wide. Pant again goes over cover.
10.38 pm IST: FOUR! Henriques bowls a bouncer to Pant. Pant slpas it over extra-cover.
10.35 pm IST: DD 80/2 after 9 overs. DD need 106 off 66 balls. Pant 14, Iyer 1.
10.34 pm IST: FOUR! Rashid Khan again tosses up the ball and Pant sweeps hard.
10.33 pm IST: DD 73/2 after 8 overs. Need 113 from 72 balls. Pant 8, Iyer 0.
10.30 pm IST: Full and wide from Kaul. Karun slaps it but doesn't get past Bhuvi at long-off.
10.28 pm IST: OUT! Nair c Kumar b Kaul 39. DD 72/2 in 7.4 overs
10.24 pm IST: DD 70/1 after 7 overs. Nair 38, Pant 7
10.22 pm IST: FOUR! Rashid Khan welcomed with a boundary. Pant sweeps hard to get his first boundary.
10.20 pm IST: FOUR! Short ball, dealt well by Nair. DD end 6th over on 62/1. Nair 36, Pant 2.
10.18 pm IST: SIX! Nair again moves away from leg stump and hits bowler straight over his head.
10.17 pm IST: FOUR! Nair flicks Henriques over short fine-leg.
10.15 pm IST: DROPPED! Nair moves across the stumps and tries to chip but Bhuvi fails to grasp what should have been an easy catch. Ball goes in and comes out. Disappointing. DD 45/1 after 5 overs. Nair 21, Pant 1.
10.14 pm IST: FOUR! Nair lifts Siraj's slower delivery over the covers. Ball limps to the boundary rope.
10.11 pm IST: Samson was early into Siraj's slower delivery. Miscued shot, easy catch at cover point.
10.10 pm IST: OUT! S Samson c Dhawan b Mohammed Siraj 24. DD 40/1 in 4.1 overs.
10.08 pm IST: FOUR! Nair follows up the six with a straight drive past Kaul. 10 runs in two deliveries and Kaul's hard work is undone. DD 40/0 after 4 overs. Samson 24, Nair 16.
10.07 pm IST: SIX! Short one from Kaul. Nair just guided it over wicketkeeper's head for six.
10.05 pm IST: Just one run off three deliveries from Siddharth Kaul. He would like to finish this over on a high.
10.02 pm IST: After 3 overs, DD 28/0. Samson 23, Nair 5. Samson finishes over with another boundary.
10.01 pm IST: FOUR! Samson punches Bhuvi through covers. Classy shot.
9.58 pm IST: Solid start for DD. 16/0 after 2 overs, Samson 11, Nair 5.
9.56 pm IST: FOUR! Nair gets into the act now, flays Siraj over covers.
9.55 pm IST: SIX! Samson welcomes Mohammed Siraj with a huge six. Stand-and-deliver from Samson, picks Siraj early and hits him over long-on.
9.53 pm IST: Tight over from Bhuvi. DD 3/0 after 1 over. Samson 3, Nair 0.
9.50 pm IST: Bhuvneshwar opens the bowling against Samson.
9.49 pm IST: Yuvraj Singh after his innings. "Wasn't easy to get the pace off the wicket. Williamson was batting so well so I thought I'll pace my innings. Warner and Dhawan gave us good starts. When you get time, you need to make the most of it. Happy that I got time in the middle. I said to him if we try to get around 170-175, we'll get 180. But if we try 180, we might end up getting 160. Delhi has got the best bowling attack in the IPL. They've got very good international bowlers. You have to be smart and wait for the loose balls."
9.47 pm IST: Won't be a good night for Sanju Samson if SRH win here. Samson had dropped Yuvraj on 29 and the left-hander has made Delhi Daredevils pay through their nose.
9.40 pm IST: Sunrisers Hyderabad 185/3 in 20 overs. Yuvraj 70* off 41 balls. Shami 2/36.
9.37 pm IST: FOUR! Final blow from Yuvraj. Four boundaries this over and Sunrisers Hyderabad have cantered to 185/3. Yuvraj 70* in 41 balls.
9.35 pm IST: FOUR! Sloppy fielding from Jayant Yadav. Thick edge to third man but Jayant overruns it. Rabada is distraught.
9.34 PM IST: FOUR! Half volley and Yuvraj up to it.
9.33 pm IST: FOUR! Yuvraj in full flow here. Free hit as well.
9.31 pm IST: End of 19th over. 13 runs from it. Sunrisers Hyderabad 166/3. Yuvraj 53, Henriques 24.
9.30 pm IST: FOUR! That's Yuvraj Singh's 25th T20 fifty. Came off 34 balls.
9.28 pm IST: FOUR! Lovely placement. Yuvraj moves to make room and beats short third man.
9.27 pm IST: Very good over for SRH. 20 runs off it. SRH 153/3 after 18 overs. Yuvraj 43, Henriques 21.
9.26 pm IST: FOUR! Henriques places Rabada past point.
9.24 pm IST: SIX! Bread and butter shot for Yuvraj. Rabada was slightly fuller. Yuvraj just flicked him effortlessly.
9.22 pm IST: FOUR! Henriques picks easy boundary off Rabada to fine-leg.
9.21 pm IST: After 17 overs, SRH 133/3. Yuvraj 32, Henriques 12.
9.19 pm IST: DROPPED! Yuvraj Singh dropped on 29. Yuvraj tries to pull but only gets a top edge. Sanju Samson however fluffed the catch big time. 2 runs.
9.14 pm IST: FOUR! Yuvraj manages a pull but Angelo Mathews throws himself at deep square boundary. Couldn't save it though. SRH 126/3 after 16 overs. Yuvraj 28, Henriques 9.
9.10 pm IST: FOUR! Shami strays on to Yuvraj's pad. Yuvraj glances it fine for easy boundary.
9.07 pm IST: End of 15th over. SRH 114/3. Yuvraj 19, Henriques 7.
9.06 pm IST: FOUR! Yuvraj Singh muscles Mishra to long-on boundary.
9.05 pm IST: Amit Mishra again. Yuvraj's discomfort against spinners is well known but he must lead the charge.
9.03 pm IST: SRH 106/3 after 14 overs. Yuvraj 14, Henriques 5.
9.01 pm IST: FOUR! Yuvraj digs out a full delivery from Shami over his head.
8.58 pm IST: SRH 98/3 after 13 overs, Yuvraj 8, Henriques 3. SRH losing the momentum. Good partnership need of the hour for them.
8.57 pm IST: Moises Henriques in. Amit Mishra going through his over quickly now.
8.54 pm IST: Huge wicket for Delhi Daredevils. Williamson got into position a little too early. Couldn't connect the pull properly. The delivery anyway was quite wide. Big leading edge that was pouched safely by Chris Morris at deep square-leg.
8.53 pm IST: OUT! Williamson c Morris b Shami 24, SRH 92/3 in 11.4 overs.
8.51 pm IST: Mohammed Shami back into the attack. Some pace for SRH to use.
8.49 PM IST: After 11 overs, SRH 90/2. Williamson 23, Yuvraj 4.
8.48 pm IST: FOUR! Williamson rocks back and plays Mishra late past short third man.
8.45 pm IST: Jayant Yadav completes his quota. His figures are 4-0-26-0. SRH 83/2 after 10 overs. Williamson 17, Yuvraj 3.
8.42 pm IST: Nine overs gone. SRH 78/2. Williamson 15, Yuvraj 1.
8.40 pm IST: Dhawan's shot didn't have the power to cross the rope. Easy catch for Iyer at deep square. Yuvraj in.
8.38 pm IST: OUT! Commentator's curse I guess. Dhawan gone for 28. SRH 75/2
8.37 pm IST: Amit Mishra in.
8.36 pm IST: Expect no shortage of boundaries when Kane Williamson is around. A partnership is key for SRH though and Dhawan is perfect for the anchor's role.
8.34 pm IST: Timeout. SRH 75/1 after 8 overs. Dhawan 28, Williamson 13.
8.33 pm IST: SIX! Williamson gets down on his knee to deposit Jayant over deep fine-leg boundary.
8.32 pm IST: Jayant's third over. Williamson goes for a heave but completely misses the connection. Big turn for Jayant.
8.30 pm IST: Quiet over from Chris Morris. Only one run. SRH 67/1 after 7 overs.
8.26 PM IST: FOUR! Dhawan doesn't allow Warner's dismissal to bog him down. SRH 66/1 after 6 overs. Dhawan 27, Williamson 5.
8.23 pm IST: Lovely yorker from Mohammed Shami that caught Warner on the move. Timely breakthrough for DD.
8.22 pm IST: OUT! D Warner b Mohammed Shami 30. SRH 53/1 in 5.2 overs.
8.20 pm IST: After 5 overs, SRH 49/0. Warner 26, Dhawan 23.
8.19 PM IST: FOUR! Warner whacks Rabada's slower ball through cover.
8.17 pm IST: FOUR! Dhawan rocks back and whips it past behind point. SRH 40/0 after 4 overs, Warner 18, Dhawan 22.
8.16 pm IST: SIX! Dhawan hits Morris over deep midwicket.
8.14 pm IST: FOUR! Dhawan cover drives Morris.
8.12 pm IST: SRH gathering steam here. 25/0 after 3 overs. Warner 17, Dhawan 8.
8.11 pm IST: SIX! Warner goes for a switch hit off Jayant Yadav. Sails over the boundary. SRH 22/0.
8.09 pm IST: SRH 15/0 after 2 overs, Warner 10, Dhawan 5.
8.07 pm IST: FOUR! Warner's turn now to lay into Rabada.
8.05 PM IST: FOUR! Too easy for Dhawan, picks Rabada's loosener and flicks it past square-leg.
8.04 pm IST: After 1 over, SRH 4/0. Warner 4, Dhawan 0.
8.02 pm IST: Close lbw appeal for Jayant against Warner. Would have hit leg stump. Warner hits him for a boundary through covers off the next ball.
8.01 pm IST: Jayant Yadav to open the bowling.
7.58 pm IST: Time for the match to begin. Sunrisers Hyderabad openers coming out.
7.57 pm IST: Warner has hit 235 fours and 98 sixes in 54 innings for Sunrisers Hyderabad since 2014. His 156 sixes in 109 innings is the fourth highest in this tournament.
7.53 pm IST: David Warner needs two sixes to become the first batsman from Sunrisers Hyderabad to hit 100 or more sixes in IPL.
7.50 pm IST: Yuvraj has scored 2452 runs at an average of 25.02 and a strike rate of 131.26 with 11 fifties in 112 innings of 116 matches for Delhi Daredevils, Kings XI Punjab, Pune Warriors, Royal Challengers Bangalore and Sunrisers Hyderabad so far.
7.49 pm IST: Few records to watch out for. Yuvraj Singh needs 48 runs to become the 18th batsman to complete 2500 runs in IPL.
7.47 pm IST: One change for Sunrisers Hyderabad --- Deepak Hooda comes in place of Bipul Sharma.
7.40 pm IST: SRH XI: D Warner, S Dhawan, K Williamson, M Henriques, Y Singh, D Hooda, N Ojha, B Kumar, R Khan, S Kaul, M Siraj
7.39 pm IST: DD XI: S Samson, S Iyer, K Nair, A Mathews, R Pant, C Morris, C Anderson, J Yadav, K Rabada, A Mishra, M Shami
7.32 pm IST: Two changes for Delhi Daredevils --- Angelo Mathews and Jayant Yadav come in for Sam Billings and Shahbaz Nadeem.
7.31 pm IST: Delhi Daredevils have won the toss, opt to bowl.
7.28 pm IST: Marlon Samuels should be available for selection. But will Delhi Daredevils change their combination?
7.17 pm IST: Around 10 minutes from the toss. In the meantime, do read what a die-hard Delhi Daredevils fan has to say about his team's disappointing run.
7.14 pm IST: Kane Williamson too has been in fluent form for Sunrisers Hyderabad, scoring 89, 21, 54* and 40 so far.
7.12 pm IST: Here's the last five scores of Sunrisers Hyderabad captain David Warner --- 126, 51, 43, 4 and 70*. His last innings of 126 came off just 59 balls against Kolkata Knight Riders.
7.09 pm IST: Frankly, it doesn't look very good for Delhi Daredevils. Without captain Zaheer Khan, they have a huge task at hand against a rampaging Sunrisers Hyderabad.
7.07 pm IST: Delhi Daredevils don't have a great record against Sunrisers Hyderabad at home too. They have lost both times to Sunrisers Hyderabad at Kotla.
7.05 pm IST: Delhi are placed bottom of the heap right now with four points from eight matches. Sunrisers Hyderabad on the other hand are third with 13 points from 10 matches.
7.03 pm IST: Sunrisers Hyderabad have won six and lost three in the nine matches played against Delhi Daredevils so far.
7.00 pm IST: Hello and welcome to HT's live coverage of the Indian Premier League match between Delhi Daredevils and Sunrisers Hyderabad at Feroz Shah Kotla.
Having won six of their 10 matches so far, with one being washed out due to rain, Sunrisers Hyderabad can put themselves on the verge of playoff qualification with a win in Delhi. (IPL 2017 SCHEDULE)
Delhi Daredevils, on the other hand, have been struggling for form in recent games, with the lowest point of their campaign coming in the last game against Kings XI Punjab, where they were bowled out for a paltry total of 67. (ALL THE RESULTS)
While DD have a good bowling line-up, the biggest cause for concern is the inconsistency in their batting. Barring Sanju Samson, almost every other batsman has failed to get going for the team this season.
SRH will be quietly confident going into the game, and having bowled extremely well in the death overs this season, will have the edge against the out-of-form hosts.
Close