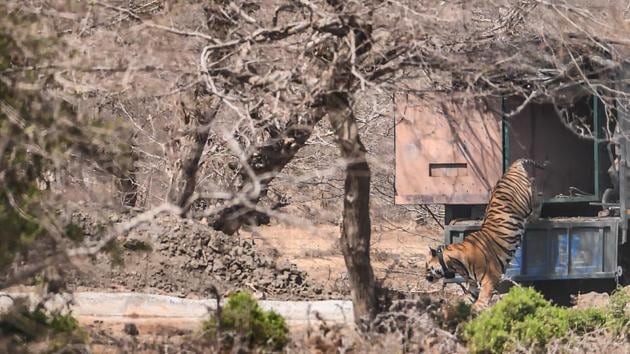 CM pats people, forest teams for tiger's relocation to Mukundra
Chief minister Vasundhara Raje congratulated the people of Hadoti region of Rajasthan on Tuesday on successful translocation of tiger RT-91 to a 28-hectare enclosure at MHTR
UPDATED ON APR 03, 2018 10:20 PM IST
Chief minister Vasundhara Raje congratulated the people of the Hadoti region of Rajasthan on Tuesday on the successful translocation of tiger RT-91 to a 28-hectare enclosure at Mukundra Hills Tiger Reserve (MHTR).
"This day shall go down in the annals of conservation as a landmark event where a new habitat is being developed for the national animal," she said in a statement, commending the efforts of the teams from Ranthambhore Tiger Reserve (RTR), MHTR, and Village Wildlife Watchers (VWW) from Ranthambhore.
"It shall be the responsibility of the people of Hadoti region to ensure the all-round conservation of the Mukundra ecosystem."
In an order issued on March 30, the Rajasthan chief wildlife warden laid down guidelines and protocols for the translocation exercise. The tiger was shifted to the 28-hectare enclosure in Darrah range of MHTR on Tuesday, so that it can be safe and secure.
Tiger RT-91 had left Ranthambhore Tiger Reserve and was living in the peripheral forests near Bundi and was frequenting populated areas. There was a sense of trepidation among locals and a chance of the tiger falling prey to poachers.
As per section 11A of the Wildlife (Protection) Act 1972, powers to decide on translocation of any Schedule 1 animal lies with chief wildlife warden of the state.
Close