Infighting coming to fore, Congress leadership directs workers to stay united
Nov 01, 2018 09:03 PM IST
The central leadership directions came after incidents of infighting were reported in the party in recent times.
The Congress central leadership is concerned with the recent incidents of scuffle during party meetings and has directed party workers to stay united to reap the benefits of people's anger against the Raje government.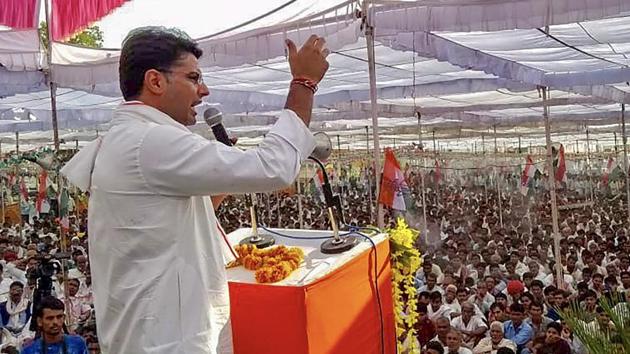 The All India Congress Committee (AICC) general secretary Ashok Gehlot has called the incident at Shahpura disappointing. "Programmes such as 'Mera Booth Mera Gaurav' (MBMG) are helping workers to interact and have increased activeness. I urge all workers and leaders to stay united and make the programme successful," he said.
Gehlot cleared that the party will not be selecting candidates on the basis of MBMG and will be announced by the party high command. "I appeal to all workers and probable candidates to stay united and connect with voters and the public. Spread party president Rahul Gandhi's message to each and every home – those achieve success in it will also strengthen their candidature," said Gehlot, ex-chief minster Rajasthan.
He said that MBMG programme aims to strengthen booth management and connect with people. Under the programme, the party initially held a meeting at divisional levels and now has extended to all assembly constituencies.
The central leadership directions came after incidents of infighting were reported in the party in recent times.
With just six months left for the assembly elections, infighting came to the fore in Rajasthan Congress. In Shahpura, state party in-charge Avinah Pande, state Kissan Cell state president Sandeep Choudhary was manhandled by supporters of another leader during MBMG programme.
Choudhary alleged that he was beaten black and blue on directions of two senior leaders, who are eyeing a ticket on May 25. On his complaint, state party chief Sachin Pilot expelled one and issued the notice to two in Shahpura incident.
However, Choudhary expressed dissatisfaction as no action was taken against the main accused. He reported the matter to the leadership in Delhi.
In another incident, two probable Congress candidates of Kishanpole assembly constituency in Jaipur clashed over the timing of burning an effigy, while they were staging a protest on increase in oil prices. Former Mayor Jyoti Khandelwal and ex-MLA candidate Ameen Kagzi had a verbal tiff during the protest.
In the third incident, opposition Whip Govind Singh Dotasara and a senior leader had heated exchange at the party office. The senior party leader questioned Dotasara as why is he supporting an independent MLA, this led to a heated exchange, which settled after the intervention of other leaders present there. The independent MLA was a minister in the previous Congress regime and is supporting the party.