PM words a big pat on back for Jaipur Foot founder
Nov 15, 2017 08:24 PM IST
Two tweets and a visit by Prime Minister Narendra Modi to one of its centres in the Philippines has come as a big encouragement to Jaipur-based BMVSS
Two tweets and a visit by Prime Minister Narendra Modi to one of its centres in the Philippines has come as a big encouragement to Jaipur based Bhagwan Mahaveer Viklang Sahayata Samiti (BMVSS), a philanthropist organisation that provides free prosthetic 'Jaipur Foot' to needy amputees.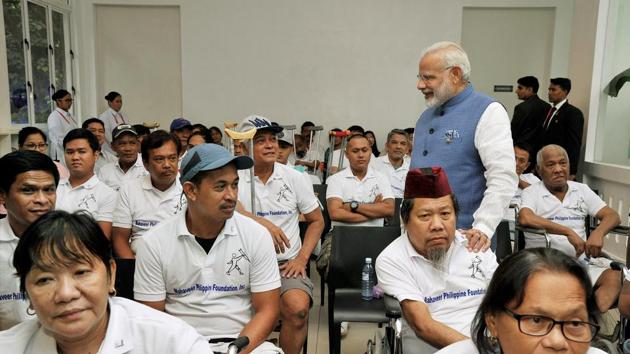 "'I want to be a policeman' my young friend told me...glad to see the Jaipur Foot giving wings to the aspirations of many youngsters like him," Modi said in a tweet after visiting The Mahaveer Philippine Foundation, at Manila in the Philippines.
"Wonderful visit to the Mahaveer Philippines Foundation. Their efforts of fitting the Jaipur Foot on needy amputees have touched several lives. During my visit, saw a series of exhibits and interacted with amputees," he said in another tweet.
Speaking to HT, the founder and the chief patron of BMVSS, D R Mehta, said, "I am very happy that Modi lauded the Jaipur Foot. The Jaipur Foot is one of the few Indian innovations that is serving the humanity."
The Jaipur Foot is given free of cost to the amputees and so far approximately 6 lakh such prosthesis have been distributed across the world.
"The BMVSS, set up in 1985, is world's largest organisation in limb fitment. We work on the philosophy that even the poor have self-respect and we should help them. We are work on the principle that even if anything has to be given for free, it should be of the best quality," Mehta said.
On Monday, Modi visited the Mahaveer Philippines Foundation at Manila, where this year 757 disabled people were fitted with Jaipur Foot. Modi interacted with the beneficiaries too.
Mehta said BMVSS has partnered with different organisations in 29 countries and around 27,000 people walk with the help of the prosthetic limbs manufactured by them.
He said Harvard Business School in the US did a case study on the Jaipur Foot. So far 1.65 million disabled people across the world have been given Jaipur Foot, callipers and tricycles, he added.