Would have lined intellectuals up and shot them if I was Home minister: Karnataka BJP MLA
Jul 27, 2018 08:50 PM IST
Former Union minister and Karnataka BJP MLA Basanagouda Patil Yatnal dubbed intellectuals and secularists who talk against the army and country as "misfortune".
A BJP MLA from Karnataka has said that if he became the home minister, he would order the shooting of intellectuals and secularists who talk against the country and the army.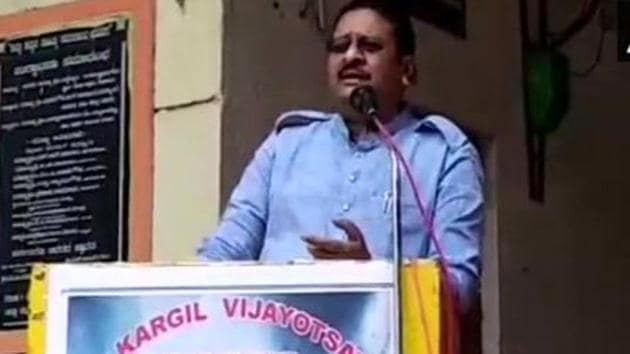 "[Intellectuals] enjoy the food, air and water of this country… They give statements against the army and the country. The misfortune is of the country because these are intellectuals and secularists from our country. Yet they give such statements. If I become the home minister, I will order for them to be lined up and shot," Basanagouda Patil Yatnal, MLA from Vijayapura town, said in a speech at a function to mark victory in the Kargil war on Thursday.
He goes on to say that "one opposition leader says the army is raping women and attacking innocent youths". "Why will they do that? They keep talking about human rights in the country, but don't talk about the rights of soldiers. But if action is taken against anybody who conducts actions against the state, they start talking about human rights… [They say] Human rights violations by army and police."
A video of the speech has gone viral on social media.
A similar video last month had stoked controversy where Patil was seen asking his supporters to work for the Hindus who voted for him and not Muslims in the constituency. Patil is MLA from Vijayapura town.
Repeated attempts to reach Yatnal through phone calls and messages went unanswered.
Responding to the video, writer BT Lalita Nayak said it was condemnable that such statements were being made by leaders. "They have no understanding of such issues," she said.
"Such statements, especially in a state where two intellectuals, MM Kalburgi and Gauri Lankesh, were shot dead is highly insensitive and criminal action should be initiated against him," she said.
KL Ashok of the Komu Sauharda Vedike (forum for communal harmony) said it was clear that Yatnal had no idea about the Constitution.
"A person who has taken oath in the name of the Constitution, unfortunately, has no clue about what it says," he said. "Seeing such open support for violence from elected leaders, it is little wonder that there is a spate of lynchings occurring across the country."
The statement came in for criticism from newly elected state Congress president Dinesh Gundu Rao, who called it a reflection of the BJP's politics.
"It is the BJP's intention to destroy society through inflammatory statements that incite violence. This statement is a reflection of their hate-filled politics. The state government should lodge a complaint and investigate," he tweeted.
Meanwhile, BJP state general secretary N Ravikumar said Yatnal had clarified to him that he had not said he would order for intellectuals to be shot.
"He said he spoke about how intellectuals were speaking ill of the country and the armed forces," he said.
However, when it was pointed out to him that there was a video clip showing Yatnal making the statement, Ravikumar said he would seek further clarifications from the MLA.
Vijayapura district SP, Nikham Prakash Amrit said police were seeking legal opinion. "We have sought legal opinion and will take action accordingly," he said.
"Exciting news! Hindustan Times is now on WhatsApp Channels
Subscribe today by clicking the link and stay updated with the latest news!"
Click here!