Chocolates, tea and water : from youth groups to political parties all extend a helping hand at cash crunch queue
Published on Nov 14, 2016 10:40 AM IST
Sunday saw groups of youths and political party workers set up camps near banks to help out people fill up forms.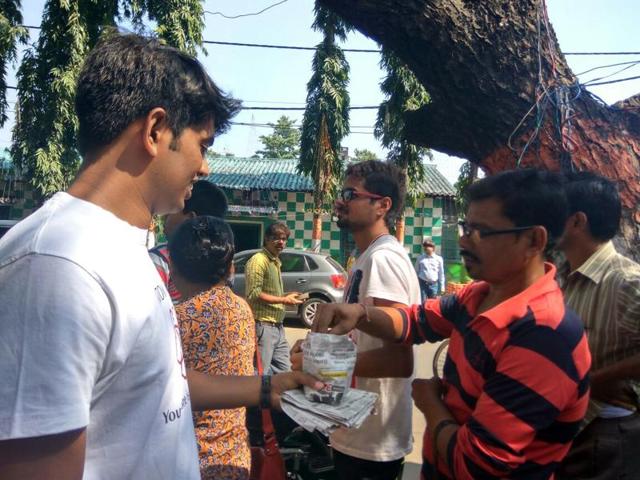 On Sunday afternoon a group of boys and girls in their late teens were seen moving in and out of the long queues in front of banks at Bangur Avenue at the outskirts of Kolkata. On a closer look, paper packets full of chocolates and water bottles were visible which they offered to the tired and waiting men and women.
From groups of youths to Sikhs, even political parties were not behind to offer help to those who waited at banks and ATMs day long.
Read:PM Modi holds late-night meeting with ministers on demonetisation
Prime Minister Narendra Modi's surprise move banning denominations of Rs 1,000 and Rs 500 from November 8, 2016 midnight left the common people in a soup. Since then people have been running from one bank to another and from one ATM to the other for cash, especially Rs 100 notes.
Sunday was the fifth day since the announcement was made and people were seen queuing up in front of banks and ATMs with the hope of getting some money.
To provide a helping hand to people, a group called India First on Sunday organised a camp a Bangur in Kolkata. Volunteers of the organisation provided water to the people who stood in the sun for hours in order to deposit their money (banned Rs 500 and Rs 1000 notes) and withdraw some money to run their homes.
Read:In pics: People grow impatient waiting for cash at banks, ATMs
Sourav Mishra, a member of India First, said, "We also helped people by filling up their forms apart from giving them water. We also distributed chocolates among them. Our members were present in front of all banks that are located in Bangur area and we were there from 9am to 1pm."
Members of the India First group are mostly marine engineers, engineers, entrepreneurs and professionals in various fields.
Similarly, Congress, Trinamool Congress, DYFI and SFI activists were also seen setting up camps at different places in the city to provide help. Ritabrata Banerjee, CPI(M) Rajya Sabha MP, visited such a camp in Salt Lake, too.
While CPIM workers were conspicuous at different banks in Salt Lake, Congress workers were seen in central Kolkata helping out people to fill up forms.
Trinamool Congress too put its workers on the ground in some pockets to help out the people near banks and ATMs. Leaders like Congress stalwart Rahul Gandhi and Trinamool Congress Youth President Abhishek Banerjee had already called on workers to help out the people affected by cash crunch.
Various Sikh organisations were also seen helping out the people at queues with tea and snacks.
Personalise your news feed. Follow trending topics