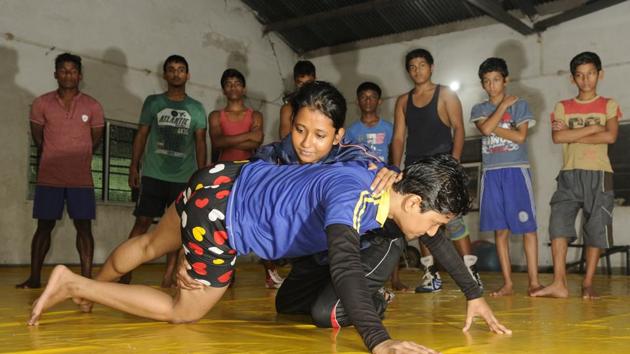 Despite Dangal craze, very few takers for women's wrestling in Bengal
The sport is dying a slow death in Bengal, thanks to lack of modern facilities, proper equipment and government aid.
PUBLISHED ON DEC 24, 2016 09:40 AM IST
It's 5.30 pm and one can feel the chill in the air.
A group of young boys are playing carom under the light of a single bulb at a dingy lane in Jorabagan Park.
We walk past them and enter the building on the left. The metal gate makes a loud screeching noise. Women clothes are hung out to dry on the railings.
"Go Sikha. Try the duck under takedown."
We hear loud noise of cheering and clapping from a distance.
As we climb the staircase of Panchanan Bayam Samity, we notice a young girl with short hair fighting it out on the mat with a six feet tall boy with broad shoulders.
Eventually, the boy gives in and 17-year-old Sikha Singh wins the bout. She wipes the sweat from her forehead and steps out of the fighting arena.
For Sikha Singh, wrestling is like worship. The Class XI student has been staying at Panchanan Bayam Samity, a residential wrestling club in north Kolkata, for more than six months now and practising hard to compete at the national level.
Like any other girl of her age, she too likes clicking selfies and watching the latest Bollywood flicks.
But ask her about her inspiration in life and her face lights up. "I am a huge fan of Sakshi Malik. She made us all proud with her remarkable feat at the Rio Olympics," says the Garia resident.
Like Sikha, 15-year-old Shruti Banerjee, too, idolises Sakshi.
Sakshi made the country proud when she bagged the bronze medal in the 58 kg category at Rio Olympics. She became the first Indian women wrestler to win a medal at the Olympics. Malik also won the silver medal at the Commonwealth Games in 2014.
More women from Haryana are joining the game and winning medals at international and national events.
In 2010, freestyle wrestler Geeta Phogat won the first ever gold medal in wrestling at the Commonwealth Games. She achieved the rare feat when she became the first Indian woman wrestler to qualify for the Olympics.
Geeta's sister Babita won a silver medal at the Commonwealth Games in 2010. Her cousin Vinesh Phogat is also a well-known wrestler today.
Achievements of wrestlers like Sakshi, Geeta Phogat and Babita Kumari have put India's women wrestling on the world map. And with the government's help, more girls from Haryana are willingly coming into wrestling. But the picture back home is not so bright.
A couple of days before the release of Aamir Khan's film Dangal that is based on the lives of Phogat sisters, HT visits Panchanan Bayam Samity, a 135-year-old akhara of the city to find that women participation in the sport is abysmally low in Bengal.
NUMBER GAME
Before and during the release of films such as Sultan and Dangal, which are based on wrestling, there are only a few enquires and enrolments from and by young girls and boys, but most of them drop out after the few days.
Twenty-eight-year-old coach Runu Ghoroy's phone didn't stop ringing ever since Sultan was released. Salman Khan's portrayal of a star, romantic wrestler with a Haryanvi accent in his 2016 Eid release Sultan shattered all box office records. Approximately, 50 young boys and one girl took admission at Panchanan Bayam Samity, one of the oldest residential wrestling clubs in Kolkata, after Salman's film released.
Five months have passed since then. And only one boy out of those 50 is left.
Bollywood's Mr Perfectionist Aamir Khan reprises the role of Mahavir Singh Phogat in the Christmas release Dangal. Phogat taught wrestling to his daughters Geeta and Babita, who went onto become medal winners.
The way the Dangal girls, Fatima Sana Shaikh and Sanya Malhotra, who play the Phogat sisters in the film, are making news with their wrestling moves. Runu is sure the phone calls will return. In fact, even before the sports biopic released, two girls and eight boys have already taken admission at Panchanan Bayam Samity.
But Runu and Asit Kumar Saha, general secretary, West Bengal Wrestling Association and vice-president Wrestling Federation of India, say that a few Bollywood movies on wrestling might keep this dying sport in the headlines for a few weeks. But that doesn't solve the greater purpose.
From lack of modest facilities, proper equipment to government aid, the sport is dying a slow death.
"I am sure we will be flooded with phone calls from young girls as soon as Dangal hits the screens. They will be inspired by the story of the Phogat sisters. But few will actually take the sports seriously. We feel extremely bad that we are in news whenever a Bollywood film releases. But we work throughout the year," smiles Runu. One can feel the sadness hidden behind the smile.
At present, West Bengal Wrestling Association trains 40-50 women and approximately 250 boys.
FACEBOOK OVER WRESTLING
Runu rues that today young girls are hooked onto Facebook. Also, they are highly fashion conscious and think wrestling might bring out changes in their body structure.
"Today young big city girls like to spend more time on Facebook. They believe that their body structure will be different if they take up wrestling. Does Geeta look any different?" questions Runu.
However, Runu says that girls who come from districts and smaller towns show interest in the sport. At Panchanan Bayam Samity, girls from Howrah, Hooghly, Purulia and the 24-Parganas battle it out. It is one of the few wrestling clubs in the state, which trains women.
Saha, a state champion in freestyle and Greco-Roman wrestling, runs Panchanan Bayam Samity. He tells HT that women in Kolkata today are opting for badminton and karate than wrestling.
"Wrestling requires more body fitness. It's the toughest and oldest sports in the country. Women can learn wrestling to defend themselves. In today's society, it's important for a woman to learn how to defend herself," he says.
FAMILY MATTERS
Sakshi Malik became the first Indian female wrestler and the fourth Indian woman to win an Olympic medal. But it wasn't an easy journey.
Born in Haryana, her parents too faced criticisms from neighbours when their daughter signed up for wrestling classes. However, their parents supported Sakshi throughout her mission.
But the same cannot be said about parents of other girls. Runu says there's still a section of the society which looks down upon women who take up wrestling. It is still considered a male sport.
Runu, who trains 14 girls and 50 boys at Panchanan Bayam Samity, has a two-year-old son.
She refutes the rumours that married woman cannot continue wrestling post child-birth. "I have had a caesarean delivery. I too participate in games. It did not harm my body," she says.
The girls at the akhara say that not every parent understands. According to them, many guardians are of the belief that wrestling is a body-contact game and might cause grievous injuries. Once a girl is injured, she is out of the marriage market.
But Sikha is confident to dispel the social stigma associated with it. "I don't care what people think of me. I have immense confidence in myself," says Sikha with a smile.
Runu says people used to point fingers at Sikha when she got her hair cut short. She rues that most people in the neighbourhood is not even aware that this is one of the oldest wrestling clubs in the state and have produced medals winners.
LACK OF OPPORTUNITIES
The trainers and wrestlers unanimously rue that the government should be more proactive and promote the sport. Saha, who won the bronze medal in the Senior National Wrestling Championship in 1969, regrets the lack of proper infrastructure, publicity, job opportunities and government aid.
He complains that the West Bengal Wrestling Association is yet to receive an amount of Rs 5 lakh, which former sports minister Madan Maitra had granted in 2013 after the association organised a senior national wrestling championship. It is now planning to take the matter up with the chief minister.
"Will the government look after us when we win medals? One needs proper infrastructure and facilities to prepare the athletes. Our athletes participate in national and international competitions. We manage with bare minimum facilities," says Saha, whose father Sudhir Saha was a coach and wrestling administrator in India. He also introduced the Greco-Roman wrestling in India.
Interestingly, National Award-winning actor Mithun Chakraborty got trained in wrestling by Sudhir Saha at Panchanan Bayam Samity.
PLAY ALONG
For women wrestlers like Sikha, Nabanita Das and Shruti, the Haanikaarak Bapu and Dhaakad songs from Aamir Khan starrer Dangal act as inspiration during their practice sessions. The song, 'Haanikaarak Bapu' shows Aamir as a strict father who prepares his teenage daughters, Geeta and Babita, to become wrestlers.
Sikha, who is gearing up to participate in the national level games in the New Year, wakes up at 4 am and practices rope climbing. The girls agree in unison that they can easily relate to the song. "We play the songs here at the akhara and do our practice," says Nabanita.
The girls can't wait to watch the reel-life Phogat sisters on screen. They are also looking forward to learn a few new moves from the film. "Unlike Sultan, Dangal is based on a real story. So, it would be more authentic," says Shruti.
Close