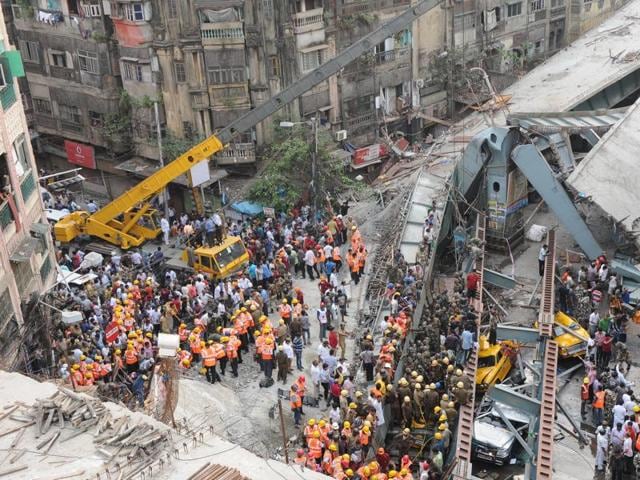 Multiple agencies to blame for Burrabazar flyover collapse: IIT-KGP report
The report nails KMDA, Kolkata Police and contractors for the tragedy in its report to the government.
UPDATED ON AUG 12, 2016 05:02 PM IST
Not only KMDA, but all major agencies involved in constructing Vivekananda Road flyover, as well as Kolkata Police's traffic department, were to blame for the bridge's collapse on March 31. The observation has been made in a report submitted by an IIT-Kharagpur team that was asked by the state government to probe the incident. The broad daylight tragedy in the heart of Kolkata left 27 people dead and 89 injured, and triggered panic across the city.
Read: Had predicted Kolkata flyover collapse, writes Kiran Bedi
"We have found fault with all aspects of the construction. Be it the design, the raw material or the way the job was done, and traffic management beneath the construction, all aspects were at fault," said professor Anandapran Gupta, a former head of the department of civil engineering at IIT-Kharagpur. Professor Gupta and professor Swapan Majumdar, a retired faculty member of the IIT's structural engineering department, conducted the investigation. Chief secretary Basudeb Banerjee headed the committee. It submitted its report on Wednesday.
Read: Kolkata police arrest another IVRCL official in flyover collapse case
"This probe was all about fixing responsibility and finding out why the flyover collapsed. Be it an employee of KMDA or those who designed the bridge, or those involved in construction or those who supplied raw material, … none found guilty would be spared," a senior bureaucrat at Nabanna told HT.
The government will ask a panel of experts to decide on the future of the flyover within the next two days. "We will ask the experts what the government should do now. Should we continue and complete the construction or dismantle it completely," the official said.
Read: Kolkata flyover tragedy: Police arrest 4 more IVRCL officers
The firm behind the construction was Hyderabad-based IVRCL. The disaster took place just four days before the first phase of Bengal Assembly elections and provided unexpected fodder to opposition leaders to target the ruling dispensation. Fingers were pointed at the Trinamool Congress "for conniving with a real estate syndicate run by a relative of a ruling party MLA". Urban development minister Firhad Hakim was particularly targeted by leaders of the opposition.
Close