Interior design year-ender: Home decor trends of 2022 that will gain more prevalence in New Year 2023
Dec 28, 2022 02:09 PM IST
With 2022 coming to an end and December filled with festivities, people look forward to revamp their home interiors and decors. They search for trends that they can integrate while redecorating their home space. Here are home decor trends of 2022 that will gain more prevalence in New Year 2023
Interior design is expeditious, so being on track with the latest trends is always a challenge however, it is also important to be sentient to every user's requirement and create a unique version of the burgeoning trends and as we are close to the end of this year, it's time to plan ahead by thinking about what trends will lead in the New Year 2023. With 2022 coming to an end and December filled with festivities, people look forward to revamp their home interiors and decors where they search for trends that they can integrate while redecorating their home space.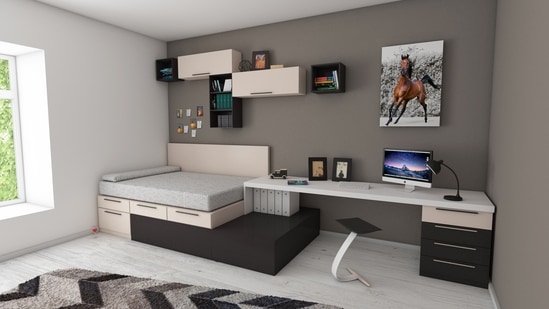 In an interview with HT Lifestyle, Sanjay Kumar Prasad, VP - Design and Engineering at Wakefit.co, shared, "Wellness has become a central part of our lives over the past few years. A consistent focus on wellness will be a significant part of 2023's home decor trends. Emerging trends entail a preference for nature-inspired spaces with a design emphasis on balance, calm, and simplicity. Design and décor elements that lend towards creating a space that fosters healthy and mindful living will continue to define new trends. Building on that, I foresee that nature-inspired hues such as softer greens, blues, and browns, will be in vogue next year for furniture and interiors."
He added, "As lighting affects our sleep patterns, focus levels, and mood, it has also emerged as a key element of interior design. Customers have shown a penchant for versatile home solutions including hanging pendant lamps that work both functionally and aesthetically. There will be a renewed focus on natural and artificial light to create different moods for different activities. Free-flowing movement is the key to a positive atmosphere in layout. We will be moving towards the adage 'less is more' and infuse decorative styles such as art decor into making our home decor and interiors more eclectic, calm and contemporary."
According to Giulia Bollone, Business Head at Embassy Interiors, "With so much happening in and around the world today, there is going to be a shift towards calm, simplicity and balance in terms of home interiors and design. Sustainable design will remain on top of mind, encouraging renewable elements like bamboo, cotton, wool, etc. Over the advent of the past couple of years, there is a noticeable revival of trends from the late 20th century by revisiting the art deco concept moving away from insipid minimalism to a slightly more decorative style. Moreover, using the walls as an extension of the space is not enough."
She advised, "Treating the ceiling with ebullient colours or interesting wallpapers, can create a sense of cohesiveness and bring in character. Stressing the importance of visual comfort is extremely cardinal. Additionally, artificial lighting can be utilized to achieve a mood for multifarious occasions. Pieces that range from clusters of bare bulbs in dynamic arrangements to elegant sculptural shapes and styles and vibrantly coloured shades allow users to create the elevated environment they desire in their personalized style in a gamut of spaces and change the setting based on the occasion curating different moods for variegated activities. Being mindful of thermal comfort and acoustics invokes a positive wellness design."
Bringing her expertise to the same, Poornima Hareendra, Vice President – Design and Development at Columbia Pacific Communities, revealed some of the trends in home décor which will gain more prevalence in the coming years:
1. Functionality and flexibility of spaces – Functional interior design themes with the potential for certain spaces to serve multiple functionalities will continue dominate interiors of homes. Especially in the metros where the home sizes in the high-rise apartments continue to be optimised further.
2. Use of smart home technology – The integration of smart home technology would be more prevalent in luxury home segment especially for home security, safety, lighting, blinds amongst many others. However, the use of the same would need to be implemented with a lot care in specialised segments such as senior living homes.
3. Greenery as an element of décor – Post pandemic, bringing in greenery into the interiors of the homes has gained a lot more significance. This trend may continue to develop further with ease of availability of various innovative planters which can easily integrate greenery into the interiors of the homes. This would add a lot of value in senior living homes too.
4. Lighting – With technological advancements, colour changing lamps could become an integral element of ambient lighting for certain areas in homes. E-commerce platforms offer a wide variety of choices for decorative lighting such as lampshades, table lamps, floor lamps which are affordable to all segments of customers.
5. Rugs and furnishing – Rugs and soft furnishings have always been an important part of home decor with a growing number of options.
6. Sustainability – The trend has already emerged in home décor with a growing preference for the use of natural and recyclable materials. This would gain even more importance in the years to come.