Basant Panchami 2023: Why Hindu devotees wear yellow clothes for Saraswati Puja
Jan 25, 2023 07:38 PM IST
Basant Panchami celebration includes Saraswati Puja, as she is believed to bestow wisdom, knowledge and good fortune on her worshippers but ever wondered why people do it by wearing yellow colour clothes? Here's all you need to know
The colour yellow has a lot of significance on Basant Panchami, also known as Vasant Panchami, Shri Panchami and Saraswati Panchami, where Hindu devotees celebrate the day by wearing yellow outfits, worshipping goddess Saraswati and eating traditional dishes. The festival is dedicated to Maa Saraswati, the Hindu goddess of knowledge, music, art, wisdom and good fortune but ever wondered why people do Saraswati Puja by wearing yellow colour clothes?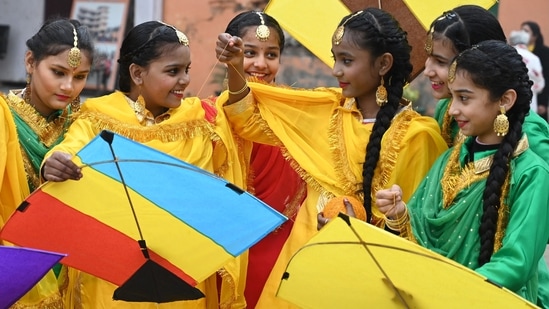 Basant Panchami is celebrated on the first day of spring and this year it will be celebrated on January 26 where across regions, yellow is a key part of festivities be it in attires, decor or food. Come Basant Panchami and nature wears a golden saree as fields ripple with yellow brilliance in mustard flower, daffodils, marigold or genda, yellow hyacinth, yellow lilies and forsythia shrubs of rural India and there are Saraswati Puja events around the city.
Yellow is associated with Saraswati as the colour symbolises knowledge and also denotes mustard fields that are associated with the arrival of spring season hence, yellow flowers and sweets are offered to the goddess as a part of the puja rituals. Saraswati, the consort of Brahma, is said to have been born on Basant Panchami - the fifth day of the lunar month of Magh (which falls in January-February) and that is why, yellow is the colour of the day, since it represents the season Vasant or spring and Saraswati is worshipped with mainly marigolds while women adorn themselves in shades of the same colour.
Yellow colour signifies peace and prosperity, is a symbol of good health and represents the brightness of the new sun and new life while also being Devi Saraswati's favourite colour. Yellow is called basanti since it is visibly related to basant or spring, is also the main colour for Holi and since Basant Panchami marks the beginning of a fresh season, it is also considered to be an auspicious colour.