Kareena Kapoor is the OG yogini as she does yoga asanas in new pics, see here
Published on Jul 28, 2021 02:37 PM IST
Kareena Kapoor Khan does Vrikshasana and Natarajasana in new pictures from her workout routine, posted by her trainer on Instagram today. The pictures will definitely motivate you.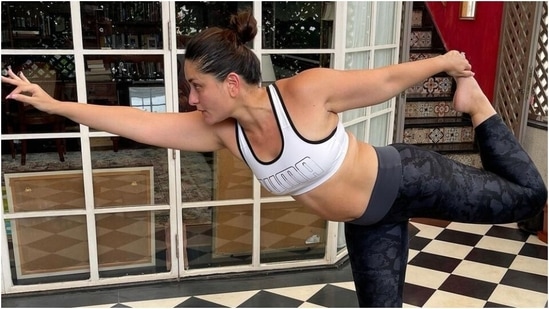 Actor Kareena Kapoor Khan has been practising yoga for some time now, and she often credits her healthy lifestyle to practising various asanas regularly. Today, pictures from the actor's latest workout session were posted by her instructor on Instagram, and they will certainly motivate you. In the fresh photos that have surfaced online, Kareena did two different yoga poses.
Kareena's yoga instructor Anshuka took to Instagram on Wednesday, July 28, to post pictures of the star doing balance-enhancing yoga asanas. She captioned the post, "Fiercely balancing back with my OG Yogini."
The 40-year-old Laal Singh Chaddha actor, dressed in a sports bra and tights, did the Tree Pose or the Vrikshasana and the Dancer's Pose or the Natarajasana in the two pictures posted by Anshuka. Take a look for yourself:
ALSO READ: Kareena Kapoor takes our heart away in blush pink anarkali, it is worth ₹27k
For the first asana, the Vrikshasana or Tree Pose, Kareena balanced her body on one foot and raised the other to rest on her thighs. She raised her hands and joined the palms over her head, nailing the tree pose.
Vrikshasana improves balance and stability in the legs, strengthens the ligaments and tendons of the feet, and tones the leg muscles right up to the glutes. Doing this pose can also assist the body in establishing pelvic stability. It also calms the mind and slows down the heart rate.
For the second asana, the Dancer's Pose or the Natarajasana, Kareena balanced her body on one leg. Taking her body forward, she bent the other leg from the knee and stretched it back to catch the foot with one hand. She raised the other hand parallel to the floor.
Natarajasana helps in losing weight, as one tends to burn calories while practising this pose. It strengthens and stretches the ankles, legs, thighs, chest, abdomen, thorax, and hips. This pose develops greater flexibility in the spine, shoulders, and hamstrings and improves balance.
Kareena wore a white sports bra with black stripes on the front for the yoga session. She teamed a pair of printed blue workout tights with the top while flaunting her midriff and workout glow. She tied her locks in a sleek top knot to keep the exercise routine fuss-free.
Personalise your news feed. Follow trending topics