Kareena Kapoor's weekend workout is meant to be bookmarked | Watch
Jan 15, 2023 08:18 AM IST
Kareena embraced the weekend with a routine of intense workouts. Take a look at the benefits of the routine she performed.
Kareena Kapoor is an absolute fitness enthusiast. The actor keeps slaying fitness goals like a pro with snippets from her workout diaries on her Instagram profile on a regular basis. From acing high intensity workouts to showing us how to take a break and embrace the body and the mind through a session of meditation, Kareena's Instagram profile is replete with such fitness inspiration. The actor also keeps showing us how to relax the mind and induce better sleep through yoga. Kareena is currently trained by Anshuka Parwani, yoga trainer to several Bollywood celebrities such as Alia Bhatt. Kareena is often spotted in videos and pictures shared by Anshuka on her respective Instagram profile where she can be seen acing difficult workout routines with easy. Kareena also believes in resting her mind and body with a session of meditation and easy yoga asanas.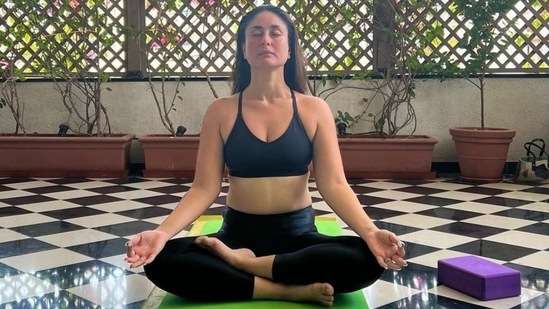 ALSO READ: Kareena Kapoor believes 'world is a yoga mat' as she nails different yoga asanas
Kareena, a day back, featured in a video shared by Anshuka on her Instagram profile, where she can be seen walking in to the fitness arena and owning it in style. Kareena can be seen taking up multiple workout routines and targeting multiple muscle groups of the body. In a part of the video, Kareena can be seen working on her back muscles with Cat Cow Pose. She can also be seen sitting down and meditating and relaxing her mind. "Saturday burn with Kareena Kapoor," Anshuka captioned her video. Take a look at her workout routine here:
Kareena's weekend workout comes with multiple health benefits. High intensity workout routines help in burning mega calories and losing fat. It also helps in controlling blood sugar, heart rate and the blood pressure of the body. Cat Cow Pose helps in strengthening and stretching the spine and neck. It also helps in stretching the hips and abdomen and improving posture and balance. Meditation, on the other hand, helps in managing stress and creating self-awareness.