Kidney disease: Foods to lower your creatinine levels
Feb 03, 2023 04:51 PM IST
High creatinine levels in the blood or urine could indicate kidney trouble. However, creatinine levels can be lowered by making certain dietary changes.
Creatinine is a waste product that is made by your muscles as a part of normal wear and tear. So, the chemical is made by your body naturally and leaves the body through urine. However, for a person with faulty kidney function, creatinine can accumulate in the blood. A person who has symptoms of kidney disease like cramping of muscles, nausea, puffy eyes or swelling in ankles can get a creatinine test and the high levels of the chemical in the blood or urine can confirm kidney trouble like kidney stones, inflammation or infection. Good hydration and some dietary changes can help reduce creatinine levels in the body. Eating less red meat and fish products can help control creatinine levels. Also eating high-fibre diet be it fruits, vegetables, whole grains etc can bring creatinine levels down. (Also read: Weak kidneys? 6 effective home remedies to help improve kidney function)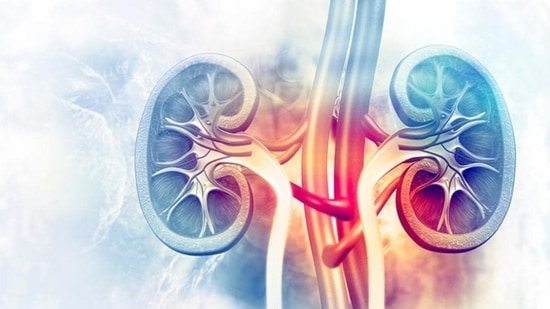 "The waste product produced when muscles are utilised is creatinine. Creatinine is a naturally occurring substance that travels from the circulation to the kidney where it is filtered before leaving the body through the urine. However, if a person has a medical condition that impairs kidney function, creatinine can accumulate in the blood. High creatinine levels are typically an indication of renal disease. A creatinine test may be necessary if you have certain symptoms including weariness, cramping in your muscles, nausea, puffy eyes, or swelling in your ankles," says nutritionist Bhakti Kapoor.
How diet can help lower creatinine levels
Kapoor says a healthy diet can aid in lowering creatinine levels and one must avoid foods like red meat, salty meals, white bread, processed foods, sugary foods, caffeine, canned vegetables, and foods that may contain high quantities of protein if diagnosed with high levels of creatinine in the blood.
"Additionally, foods with high potassium content should be avoided since they might exacerbate renal disease. Fill your diet instead with healthy items that can help the body produce less creatinine," says Kapoor.
High levels of creatinine in the body can be a dangerous sign of illnesses that require immediate medical attention as well as changes to one's lifestyle.
"Along with food, there are additional ways to lower creatinine levels, such as reducing alcohol intake, avoiding NSAIDs, staying hydrated to support renal function, and avoiding oral supplements that contain creatinine," says the nutritionist.
If you have high creatinine levels, you should consider changing your lifestyle and eating the below-mentioned food suggested by Kapoor.
Fruits
Antioxidant-rich fruits like cranberries, kiwi, apples and blueberries help in lowering creatinine levels.
Vegetables
Adding a variety of vegetables to your diet can help the body to fight against diseases. Bitter gourd, red bell pepper, cucumber and onions are some of the vegetables which help to regulate the levels of creatinine in the blood.
Nettle leaf tea
Drink 1-2 cups a day. Nettle leaf is a simple yet powerful kidney tonic that can improve kidney function and reduce serum creatinine levels
Spices
Cinnamon is found capable to cure kidney disease and hence for the regulation of creatinine level in one's body. It can be added to the kidney patient's diet or food as an ingredient.
Alpha lipoic acid
A fantastic nutrient that helps provide energy to the kidneys, helps neutralise toxins, helps improve kidney function and of course helps lower creatinine levels.