Obesity: Causes and preventive tips, as suggested by the doctors
Mar 12, 2022 04:25 PM IST
About 1 in 5 children and more than 1 in 3 adults struggle with obesity. How do you know you are in obese category? Read on to know all about it from doctors, along with its causes and preventive tips
Obesity is a chronic disorder that involves excessive amount of body fat which isn't just a cosmetic concern but also involves health problems such as heart diseases, diabetes, high blood pressure, severe arthritis and even certain cancers. It is a public health crisis worldwide where one third of all world population suffers from it and reportedly about 1 in 5 children and more than 1 in 3 adults struggle with it.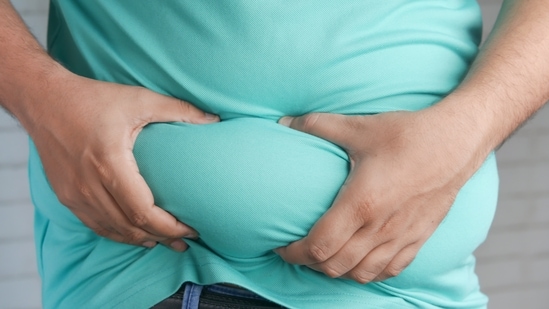 Innumerable co-morbidities are associated with obesity like hypertension, diabetes, ischemic heart disease, fatty liver, liver cirrhosis, gall stones, acidity, stroke, cancers, osteoporosis ,infertility and psychological trauma. Obesity becomes serious as it associates with poorer mental health outcomes and reduced quality of life and even during Covid-19 pandemic, obese patients were reported with severe coronavirus illness and a poor outcome as compared to normal individuals.
Causes:
Calling it a complex word involving genetic, behavioural, metabolic and hormonal influences on body weight, Dr Priyanka Shastri, Consultant Physiotherapist at Mumbai's Masina Hospital Physiotherapy Center, said, "In young teens and children's generally poor eating habits and physical inactivity leads to child's weight status."
She listed a combination of various causes of obesity that includes:
1. Lifestyle choices like unhealthy diet, full of fast food and laden with high calorie beverages contributes to weight gain
2. Inactivity leads to sedentary lifestyle which in turn take in more calories every day that you burn through exercise and routine daily activities.
3. There are various other disease and medications that leads to increase in weight gain for eg; Prader-Willi syndrome, Cushing syndrome, women who suffers from PCOD also tend to gain weight.
4. Some medications also contributes to the obesity factor which include antidepressants, anti seizure medication, diabetes medications, steroids and beta blockers .
How do you know you are in obese category?
According to Dr Priyanka Shastri, a person having BMI more than 25 and exceeds 30 is generally placed in obese category. BMI higher than above mentioned numeric have an increased risk of health problems.
Dr Manjusha Agarwal, Senior Consultant - Internal Medicine at Mumbai's Global Hospital, revealed, "Obesity severity can be assessed with weight, body mass index and body fat analysis. Normal BMI is 18.5 to 24.9. A person with BMI more than 25 to 29.9 is overweight, BMI more than 30 is defined as obesity."
Preventive tips:
Suggesting lifestyle change incorporating diet, physical activity and behavioural modification, Dr Manjusha Agarwal said it is the basis to prevent obesity. She elaborated:
1. Daily exercise for at least 30 minutes per day for all days of the week is essential. Walking, cycling, swimming, indoor cardio workouts, strength training are all helpful to improve cardiorespiratory and skeletal muscle fitness. To lose weight, people will need an hour of daily exercise schedule. Physical activity increases people's total energy expenditure which can help them stay in energy balance, it reduces body fat, abdominal obesity. Being consistent with exercise regime is essential. Shorter bouts of exercise of around 10 minutes performed three/four times a day is associated with better adherence. Exercise has the potential to alleviate the health consequences of obesity even in the absence of weight loss. Use the stairs instead of the elevator, park away from the entrance of the building so you have to walk a bit to get inside the buildings cycle or walk to run errands instead of a motorbike, have post meal stroll for 15 minutes as they are all beneficial.
2. Dietary modifications are essential to maintain a healthy weight and promote weight loss. Increase your intake of vegetables, fruits, whole grains and lean proteins. It's essential to avoid heavily restrictive diet plans like liquid diets, detox diets, cleanses and fad diets. To lose weight you need to eat fewer calories than you burn, calorie counting programs often result in more weight loss. Free calorie counting apps are available which should be helpful. Avoid skipping meals, have at least 3 meals a day. Improve your protein intake. Try adding fish/chicken/eggs/milk/milk products/pulses which improve the glycemic index and keep you full for longer hours. Focus on good quality fats like nuts, seeds and fish. Add high fibre foods which help you curb appetite like raw veggies, fruits, nuts and dried fruits. Avoid simple carbs which are found in sugar, fruit juices, cold drinks ,fries, white bread, pasta, chips, cakes, cookies and processed foods. The high glycemic index in these foods causes sudden surge in blood sugars, if not utilized by the body, builds up as fats.
Dr Manjusha Agarwal added, "Improve your water intake, use a smaller plate, eat slowly, not eating while watching television, portion control are all useful. Avoid eating out frequently, prefer home cooked meals for most of the time. While dining out, ask for a take home box and put half of your dish in it to eat the next day. Read food labels carefully and pay attention to serving size and number of calories consumed. Make sure you are getting enough sleep. Commit to a consistent sleep schedule as sleep deficiency promotes obesity and weight gain."
Tagging it as an increasing medical problem of the modern day world, Dr Rakesh Rajpurohit, Consultant Pulmonologist at Jain Multispecialty Hospital, recommended long-term management of obesity with weight loss as the key component for management of the problem. He advised:
1.Non-pharmacological management through diet, physical activity and behaviour, dietary interventions, special emphasis on energy reduction through low calorie and low fat diet, increased vegetable and fruit intake and healthier snacks with decreased portion sizes.
2.Water is recommended as the main beverage and drinks with high sugar content, including soft drinks and fruit juices should be limited.
3.Regular physical activity has been shown to reduce medical co-morbidities associated with obesity. Increased physical activity in overweight and obese adults has been evidently shown to reduce the risk of cardiovascular disease.
Asserting that obesity is not the end and that prevention is always better than cure, Dr Priyanka Shastri said, "Even the modest weight loss can improve or prevent the health problem associated with obesity. Seeing the reasons for obesity - healthy lifestyle, diet and physical activity plays a magnificent role in one's life. In young children weight loss approach is a difficult part since their bodies are growing and developing." Advising a reduction in sedentary activity such as watching television, videotapes and playing computer games, Dr Priyanka Shastri said, "Children should be encouraged to play outside in a open area instead of spending time inside home watching television. By providing healthy meals and snacks on a regular interval they should be encouraged to adopt healthy eating patterns."
In Adults too, she suggested some simple changes that can make large difference and help to lose weight and prevent obesity. These include:
1. Avoiding highly processed foods, sugary beverages including sodas or sports drinks, grain desserts like pies, cookies and cakes.
2. Skipping saturated fats which majorly contributes to obesity.
3. Focusing on sources of healthy fats (monounsaturated and polysaturated fats) like avocados, olive oil and tree nuts.
4. Focusing on having whole fruits and vegetables at least 3-5 times a day.
5. Physical activity also plays a vital role in pursuing a healthy lifestyle. Average adult should at least get 150 minutes of moderate intensity physical per week. That means at least 30 minutes per day, five days a week. Brisk walking and regular aerobic intense exercises are best exercises to maintain a healthy lifestyle.
All this combines to you give a overall healthy lifestyle and good mental health.