7 things to remember before bringing home a new pet
Published on Jan 25, 2023 06:08 PM IST
Feeling jittery ahead of bringing a new pet home? Here are tips all first-time pet parents should follow.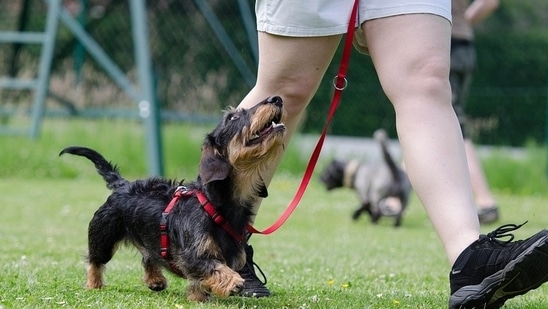 Bringing a new puppy home? Becoming a pet parent is no less joyful than bringing up a human child but the new role has its own set of challenges and one must prepare ahead if they want the best for their furry child. Making your pet feel at home should be the first priority and that includes preparing a comfortable space for your paw-some friend including a bed, food and water bowl or any other necessary equipment. (Also read: Republic Day 2023: Things you can do to make your pet feel special)
Do not be in a hurry to introduce them with all your family members at once or take them to every nook and corner of your house. All the changes can be overwhelming and thus must take it slow and gradually make them familiar with their environment and other people. It is important for pet parents to make sure their pet has got all the necessary vaccinations. Training them right is also important and that includes clear rules and boundaries early on.
Research and understand the specific needs of the pet species you are bringing home and also have a plan for emergency situations, such as having the contact information for a local emergency veterinarian.
"One of my first advice to all prospective pet parents is to research the type of pet you are interested in and make sure it is a good fit for your lifestyle and living situation. It is also crucial to understand that pet-parenting requires one to be prepared for unexpected expenses and a lot of patience and dedication, it's a big responsibility but also a lot of rewards," says Devanshi Shah, Founder and CEO, Petkonnect.
Once you are ready to actually bring your pet home, here are a few things you should consider according to Shah:
1. Prepare your home for your new pet by purchasing necessary items such as food, bowls, a bed, and toys.
2. Make sure to have a vet lined up before bringing your new pet home. Take your pet to the vet for regular check-ups and vaccinations to keep them healthy and happy.
3. Provide proper training and socialisation for your pet to help them adapt to their new surroundings.
4. Make sure to establish a regular routine for your pet, including regular feeding times, exercise and playtime, and designated sleeping areas.
5. Be patient and understanding as your pet adjusts to their new home and family.
6. Show your pet love and affection and make sure to spend quality time with them.
7. Properly groom and care for your pet to ensure their overall health and well-being.
Do not feel too much pressure. Afterall, one learns as they go along.