2019 Lok Sabha polls: BJP leader Eknath Khadse says scam allegations hurt him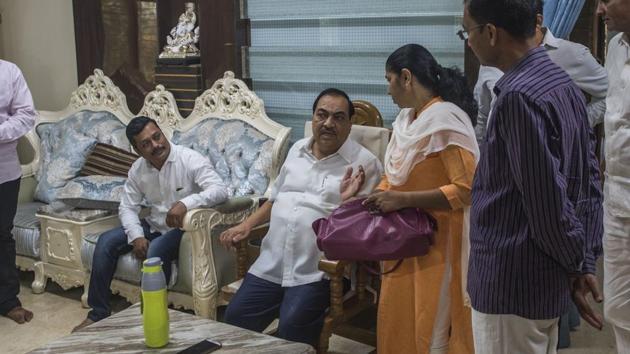 Updated on Apr 20, 2019 12:53 AM IST
In June 2016, senior Bharatiya Janata Party (BJP) leader and former revenue minister Eknath Khadse had to resign over allegations of MIDC land scam. The episode created bitterness between him and his cabinet colleagues and party leaders, with Khadse venting out on public forum. His daughter-in-law and sitting MP, Raksha Khadse, has now been renominated from Raver (Jalgaon) constituency.
Amid campaigning, Khadse speaks to HT about the inquiry he faced, the treatment he got from his colleagues, the offers from other parties and the party's prospects in the LS polls.
Excerpt from an interview taken at his Muktainagar house:
The infighting within the BJP in Jalgaon has become a talking point in the state. Won't it affect the party's prospects in north Maharashtra?
I think we will win all the seats in north Maharashtra. It is true that we had some problem in Jalgaon over finalising a candidate because of aspirations of various groups in the party. There was discontent within the party, but it has settled down and we are fighting unitedly now. We will win Raver seat (being contested by Raksha Khadse) with the highest margin in the state.
You are talking about discontent among workers, but what about you? You have been speaking against the party time and again for the past three years…
I am not unhappy, but I could not get an answer from my party over one question – Why was I made to face this? Did I really deserve this after straining every nerve for the party for the past 40 years? I faced an inquiry and came clean, but the party has not answered my question. All allegations – from MIDC land scam, to link to Dawood Ibrahim, to bribe by my so-called personal assistant – have been proved to be false. In the first place, the government should not have taken note of them. Not only my followers, but even people from Maharashtra are upset with the treatment they gave me. There was a media trial against me, but I am not bothered, until the people are with me.
If you say the inquiry report by the judicial committee has given you a clean chit, why has the report not been made public?
It has been submitted to the court in which the case is being heard. Not all reports are required to be made public.
Were you irked over the way the probe was conducted?
It was a bad period for my family and me. The anti-corruption bureau (ACB) and income tax (I-T) department tortured my wife, daughter-in-law and me several times over the past three years. Despite being members of the ruling party, the inquiry was torturous. They wanted to extract details about our (disproportionate) assets, but could not find anything, as we have nothing, but our ancestral property. I never spoke about it, but it hurt a lot.
Are you are upset with chief minister Devendra Fadnavis?
No, I am not. He is doing his work. I have a significant contribution towards making many leaders in the party. They can take away my ministry, but not my position as a loyal worker. Certain things are not discussed publicly, but I have pain, unhappiness and distress in my heart because I was pained by the same people who grew in politics because of me. But it happens, sometimes your own child ditches you…It was taken to an extreme level…
You were sidelined by the party at all levels for all these years. There was hesitation in giving the ticket to Raksha Khadse.
No. Her ticket was never been in doubt. The party had given us a hint about the ticket long ago. We had started preparations months ago. It was a perception created by the media. There were reports that I was quitting the BJP if Raksha was denied a ticket. But I never thought of defecting, although I had big offers from other parties. This (Raver) is the only seat which we have been winning for the past eight terms, barring one in the late 1990s. It is because of my hard work in the district for the past 40 years. I have worked relentlessly for the party, even when we were not in power.
There are reports that Girish Mahajan (state minister and party leader from the district) and you don't get along. Your comment…
Again this is a perception created by the media. How could we have worked together in the same district for the past 40 years if we had any dispute? He has worked under me and has obeyed my directions in the past. We have a very good understanding between us. In fact, Raksha Khadse's victory is the responsibility of Mahajan.
A lot of leaders have joined your party, after it came to power. How do you look at it?
It is necessary for the growth of the party. I have been instrumental in bringing big names such as Union minister Subhash Bhamre, state minister Jaykumar Rawal, MP Heena Gavit, former ministers Vijaykumar Gavit, Sanjay Savkare and many other sitting and former MLAs to the fold. There were days when the leaders would be unwilling to join the BJP, but we persuaded them. But let me make it clear that the leaders who come with greed and expectation of power will not stay when there is no power. Same thing happened after we lost power in the state in 1999. Many leaders became ministers in the Congress-Nationalist Congress Party government later.
Close Story