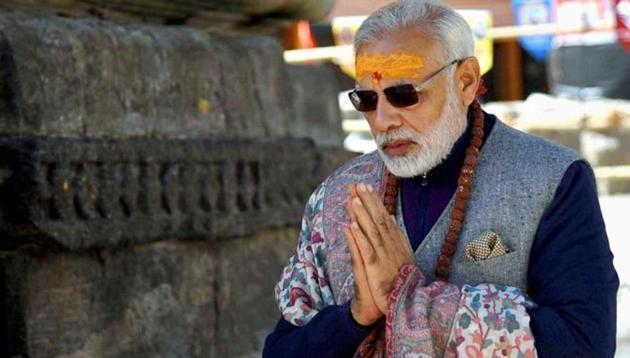 Ahead of Lok Sabha polls result, PM Modi to offer prayers at Kedarnath, Badrinath
PM Modi will arrive in Uttarakhand on May 18 for his two-day visit during which he will offer prayers at Badrinath and Kedarnath shrines apart from reviewing the Kedarpuri reconstruction project.
UPDATED ON MAY 16, 2019 10:04 PM IST
By May 17, Prime Minister Narendra Modi, the Bharatiya Janata Party's (BJP) star campaigner, would have addressed 144 election rallies.
Expectedly, he needs some R&R and Modi will arrive in Uttarakhand on May 18 on a two-day visit during which he will offer prayers at the Badrinath and Kedarnath shrines, review the Kedarpuri reconstruction project, and maybe spend some time in a meditation cave.
BJP state media unit chief, Devendra Bhasin, confirmed Modi's visit and plan in a statement issued on Wednesday.
Shri Badrinath-Shri Kedarnath Temple Committee (SBSKTC) chairman, Mohan Prasad Thapaliyal, said Modi is scheduled to offer prayers in Kedarnath on May 18 and Badrinath on May 19.
The SBSKTC chairman, a veteran BJP leader, said Modi will stay at Kedarnath for a day, some part of which he will spend meditating, and fly to Badrinath the following day, after which he will leave for Delhi.
Thapaliyal said this will be Modi's fourth visit to Kedarnath since he became Prime Minister. "Incidentally, Modi will be visiting Badrinath for the first time since he became the Prime Minister five years ago."
He added that Modi would review the beautification project at Badrinath shrine on which around ~75 crore is being spent.
Modi laid the foundation stone for the Kedarpuri reconstruction project two years ago.
The move came four years after the cataclysmic floods struck Kedarnath killing about 5,000 people.
"Modi ji has been personally monitoring the Kedarpuri reconstruction project since he laid its foundation stone," Thapaliyal said.
"About 75% works have been completed and the remaining (works) will be completed within the next six months."
GS Chauhan, a sub-divisional magistrate (SDM) supervising the arrangements for the Prime Minister's visit, said that according to the tentative
programme, Modi could also monitor flood protection work being taken up along the
river Saraswati. Modi might also "spend some time" in one of the recently built meditation caves which is around 1km away from the Kedarnath shrine, he said.
According to Thpaliyal, comprehensive security arrangements are in place in Badrinath and Kedarnath.
"The Special Protection Group has already been deployed in the shrines in view of the VIP visit."
Close