Bengal CID grills ex-IPS officer day after she files papers as BJP candidate
Bharati Ghosh, as Bengal police officer she was considered very close to CM Mamata Banerjee, is contesting the Lok Sabha polls as BJP candidate from Ghatal constituency.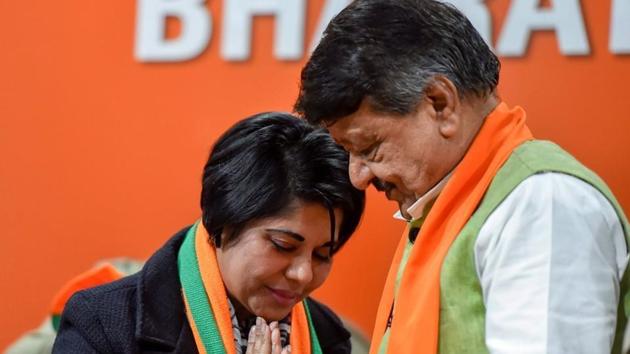 Updated on Apr 20, 2019 10:56 AM IST
Hindustan Times, Midnapore, West Bengal |
Koushik Dutta
Former IPS officer Bharati Ghosh, who once addressed Bengal Chief Minister Mamata Banerjee as "the mother of Jangalmahal", was grilled on Friday for about eight hours by state police a day after she filed nomination as the Bharatiya Janata Party candidate from Ghatal Lok Sabha constituency.
She was questioned by a team of officers from the Criminal Investigation Department (CID) of the West Bengal police. Ghosh is facing as many as 11 cases, nine of which were slapped in 2018 and two this year. Some of these charges relate to alleged extortion and illegal exchange of banned currency notes.
A team of 16 officers led by special superintendent (CID), Indra Narayan Chakraborty, arrived at the rented accommodation of Ghosh in Kalmijor village and started interrogating her from about 10 am.
The questioning ended around 6 pm. There was a short break around 2 pm. Before the CID team left, BJP supporters gathered in front of Ghosh's residence and shouted slogans.
"They (the officers) said that they would like to come tomorrow again for interrogation. I told them it will not be possible for me to attend since I have campaign plans. But I assured them of all cooperation. I have requested them to come for interrogation after April 22. Meanwhile, I shall also inform the Supreme Court of the development through my lawyer," Ghosh said after the interrogation.
Asked about the interrogation, the former cop said, "I enjoyed it. I could have enjoyed a bit more had the questions been relevant."
Ghosh also said that she had to cancel her campaign in Pingla area on Friday to attend the questioning. Polling will be held in Ghatal on May 12.
"This is nothing but one more shameless display of the ruling party's use of the state police against political opponents. TMC has lost popular support and therefore they are afraid," said Shishir Bajoria, election committee member of the BJP in Bengal.
The BJP found support from the CPI-M in Bengal over the alleged misuse of the state agencies to target the Opposition.
"We, too, have many things to say against Bharati Ghosh, who shared a daughter-mother relation with the chief minister. We demand the charges against her (Ghosh) be properly probed. But we condemn the timing of the interrogation. It is evidently a plot to use the state machinery against the opponents," said Rabin Deb, central committee member of the Communist Party of India (Marxist).
Once extremely close to Mamata Banerjee, Ghosh (then superintendent of police of West Midnapore district) hailed her as the "mother of Jangalmahal (former Maoist-dominated forested areas of Bengal) in 2016.
In March this year, Bharati Ghosh returned a medal and a certificate for commendable service that chief minister Mamata Banerjee gave her on August 15, 2014.
In 2018, Ghosh spent several months in hiding after the CID slapped cases against her under non-bailable sections.
Late last year, she was granted relief by the Supreme Court following which she emerged from hiding and joined the BJP on February 4. She joined the BJP in Delhi the presence of Union minister Ravi Shankar Prasad and BJP national general secretary Kailash Vijayvargiya and alleged that 'thugocracy' replaced democracy in Bengal.
Ghosh resigned from the police service in 2017 after she was transferred to a less insignificant post. Her relations with Mamata soured after local Trinamool leaders alleged that she was in league with BJP leaders in West Midnapore district.
Close Story