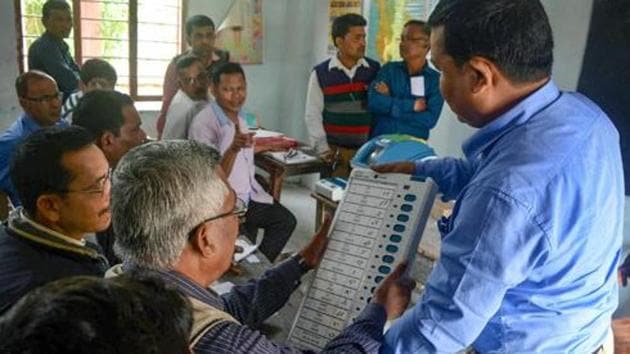 'Festival of Democracy': Politicians welcome election open season
BJP chief Amit Shah, welcoming the declaration of elections for the 17th Lok Sabha, tweeted, "I call upon the people of India to turnout in record numbers and enhance the vibrancy of India's electoral process."
UPDATED ON MAR 10, 2019 11:51 PM IST
With the election season now officially open after the Chief Election Commissioner's press conference today, political leaders from across the board took to micro-blogging site Twitter.
Among the first to tweet was Prime Minister Narendra Modi. Wishing the Election Commission and all the officials who would be on the field ensuring a smooth election, PM Modi tweeted, "The festival of democracy, Elections are here. I urge my fellow Indians to enrich the 2019 Lok Sabha elections with their active participation. I hope this election witnesses a historic turnout. I particularly call upon first time voters to vote in record numbers."
Among the first to react to the declaration of the election dates, National Conference leader Omar Abdullah tweeted, "In 2014 we had Lok Sabha elections on time & assembly elections on schedule even after the most devastating floods. Shows how badly the BJP & earlier the BJP-PDP mishandled J&K."
Read: When 3 top EC officials carpooled to Vigyan Bhavan to blow the poll bugle
Omar Abdullah went on to question union home minister Rajnath Singh's "assurance to the Lok Sabha and Rajya Sabha as well as to the the all party meeting" vis a vis his "assurance that all forces would be made available for simultaneous polls?"
"First time since 1996 Assembly elections in J&K are not being held on time. Remember this the next time you are praising PM Modi for his strong leadership," Omar Abdullah tweeted.
HD Kumaraswamy wrote, "India is set for another election. In this battle of democracy, I hope elections are conducted in a level playing field. All parties and candidates must follow the guidelines issued by the ECI and uphold the values of democracy, and respect the decision of the voters."
BJP chief Amit Shah, welcoming the declaration of elections for the 17th Lok Sabha, tweeted, "I call upon the people of India to turnout in record numbers and enhance the vibrancy of India's electoral process."
AAP chief Arvind Kejriwal tweeted, "Ultimately back to We the people -the real power of our democracy. Time to throw out the most dictatorial and anti-federal govt in the history of India. Time to seek answers on demonetisation, jobs, destruction of traders n destroying brotherhood amongst different communities."
Odisha chief minister Naveen Patnaik pledged his wholehearted support to the four-phase Lok Sabha as well as Assembly election that will be held in his states. "I welcome Election Commission of India's announcement for elections to #Odisha Assembly & Lok Sabha to be held on 11, 18, 23 & 29 April. Pleased to pledge wholehearted support for the electoral process that is the foundation of our democracy," he tweeted.
Also read: Election Commission blows bugle, India takes poll position
PDP chief Mehbooba Mufti was critical of the Election Commission not announcing assembly elections in Jammu and Kashmir. In a tweet, she wrote, "Decision to hold only Parliamentary elections in J&K confirms sinister designs of GoI. Not letting people elect a government is antithetical to the very idea of democracy. Also a tactic of buying time to disempower people by pushing an agenda that suits their ulterior motives."
Punjab chief minister Capt. Amarinder Singh put out an optimistic tweet saying his party was ready for the elections.
"We are all geared up for the May 19 polls in Punjab and I am confident that @INCIndia will win all the 13 seats. #LokSabhaElections2019," Amarinder Singh tweeted.
Also read: Criticised for 'late' announcement of election dates, poll panel explains
Union home minister Rajnath Singh tweeted, "The poll bugle has been sounded for the 17th General Elections. The nation is ready to celebrate the festival of democracy. I urge the people of India to participate in this festival by electing a government which will transform India into a 'New India'."
Close