Lok Sabha Elections 2019: BJP minister confined to office over booth-capturing charge in Rohtak
May 13, 2019 12:27 PM IST
Acting on the complaint, the police arrested Haryana minister Manish Grover's aides Ramesh Lohar, a history-sheeter facing charges in several criminal cases, and one Sunil Kumar.
The returning officer in Rohtak on Sunday confined local MLA and BJP minister of state for cooperation Manish Grover to his office, hours after sitting MP and Congress candidate Deepender Hooda complained to the election commission that Grover, along with his aides, was illegally entering polling booths and intimidating voters.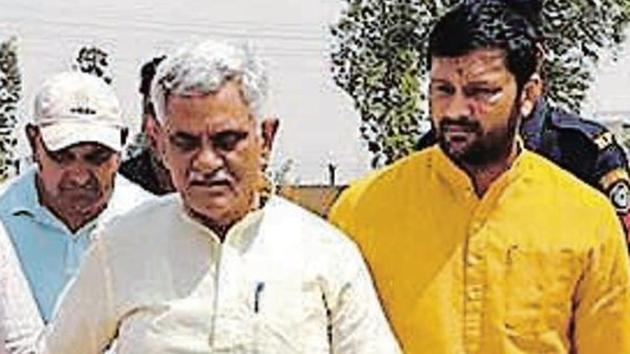 Acting on the complaint, the police arrested Grover's aides Ramesh Lohar, a history-sheeter facing charges in several criminal cases, and one Sunil Kumar. The police also seized 15 cartridges and lathis from the three cars they were using with temporary registration numbers, while many number plates were found in the vehicles which were confiscated.
The high-pitched drama unfolded in the morning when former Rohtak Congress MLA Bharat Bhushan Batra, along with Congress workers, confronted Grover and his aides inside a booth set up at Bharat Kanya Sr Sec School in old city area. Batra questioned Grover how he, along with gangsters, was entering polling booths. The two leaders first exchanged heated words and it ended with a scuffle.
The Congress workers then stopped Grover's cavalcade from leaving the booth till the police checked the three cars and made two arrests. Batra was later joined by Deepender Hooda who reached Rohtak deputy commissioner-cum-returning officer Yash Garg's office to file a complaint against Grover.
"This has never happened anywhere in the country. BJP minister is openly entering the polling booths with his musclemen while the administration and the police are standing as mute spectators. He should be booked on charges of booth capturing," said Deepender, as his team handed an official complaint along with a video as proof, demanding an FIR be registered against Grover.
Also Read | Lok Sabha elections 2019: Poll agent arrested for trying to influence voters inside Faridabad booth
Rohtak DC Garg said based on the complaint, he restricted the minister's movement till the completion of polling. "He has been asked to stay confined to his office and not go near any polling booth," Garg said.
Grover, however, said he did not receive any such order. "I am roaming around and meeting people," he told HT. Even as there were videos which showed Grover with Lohar at the polling booth, the minister said he didn't know the latter. "He could be any BJP worker. I was not with him and I am not even aware of his arrest," Grover said.
The minister said that it was the Congress leaders who were indulging in booth capturing and he, along with his supporters, had gone to stop them from doing so. "We have also submitted a complaint against Congress leaders, including Batra. They tried to vitiate the atmosphere like they did in February 2016 when they set the entire city on fire. Today again, they were scared of losing the elections and resorted to booth capturing and threatening voters," he said.
A history-sheeter facing charges in at least nine criminal cases registered in Haryana and Delhi, Lohar is an aide of Grover and has been spotted with him several times before. In March 2017, Lohar was shot at outside Rohtak courts complex allegedly by the member of a rival gang. He, along with one Sunil, have been booked under sections 188, 420, 483 and 34 of the Indian Penal Code and sections 25, 54 and 59 of the Arms Act in connection with Sunday's seizures.
Also Read | Lok Sabha elections 2019: 69% pollingin Haryana, turnout dips in Capital
Also Read | Lok Sabha Elections 2019: Battle between three political dynasties in Haryana