Lok Sabha elections 2019: BJP's Rajyavardhan Rathore banks on developmental work in Jaipur's Sinodiya village
Rathore toured around a dozen villages in Phulera sub-district on Monday.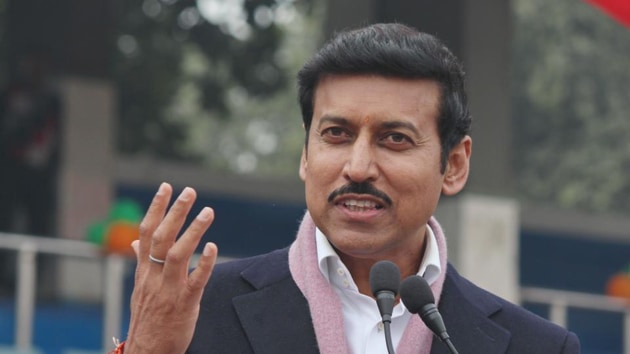 Updated on May 02, 2019 11:36 AM IST
As Bharatiya Janata Party (BJP) MP candidate Rajyavardhan Rathore addressed a small gathering at Sinodiya village in Phulera in Jaipur Rural district, he spoke to highlight the developmental work by the Centre.
In his campaign, Rathore is reaching out to voters to enhance their trust in the Bharatiya Janata Party (BJP) . His speeches have focused on the benefits delivered to the people by the Narendra Modi-led government such as gas cylinders, houses under the PM Awas Yojana, electricity supply and toilets.
Rathore toured around a dozen villages in Phulera sub-district on Monday.
The Jaipur Rural constituency has emerged as a hot seat between two Olympians.
Rathore, a silver medal holder in the Olympics, is up against Olympian Krishna Poonia. Jaipur Rural is a Jat-dominated constituency and experts say the caste equation may favour Poonia. But Rathore's work and clean image makes him a popular candidate in the constituency.
As Rathore's cavalcade enters Tyodhi village, he is welcomed with traditional safa and garlands. He tells people that Modi is a strong leader and has worked sincerely for the welfare of the people.
"Modi is at the centre and I am his representative here. You can elect a strong government and help create a link between the state and centre," he says. Before he leaves, he is weighed against bananas that are distributed among the public.
In villages around Phulera, Modi does seem to be a factor in the elections. Some people say Rathore's performance has been above par.
Rathore says people generally like him because he has not acted as a politician. "Normally MPS give money to villages that voted for them. But I have ensured that moneywenttoeverypanchayat."
He says of his Rs 25 crore MPLAD fund, work worth ₹11 crore has already done, Rs 10 crore work is in process and Rs 7-7.5 crore work is in the pipeline.
At Tyodh village, a group of villagers engage in a lively discussion. Water scarcity is a big issue here. People say the water table has fallen to 400 feet and government is supplying water once in 15 days to the village.
Ramdev Chaudhary, who owns a shop in the market, says majority of Jats will go with the Congress due to the caste factor. Congress candidate Krishna Poonia is a Jat and the constituency is dominated by Jats. He, however, qualifies his statement by adding that nationalism is an issue and will influence voters.
Kalian Kumawat, a farmer, says the Congress has cheated the people. "They promised complete loan waiver. I have a loan of Rs 3 lakh from Union Bank, but I haven't got any waiver."
He says the government would do better by making arrangements for water rather than giving loan waivers. "Farmers here are dependent on rain. We don't want loan waiver, we want solution to our water issues."
Jugal Kishore Naik says the Jats and SCS will vote for the Congress. He says in the panchayat, Congress takes a lead of 300 to 400 votes in the election. However, Gujjars who had voted for the Congress in the assembly election will vote for the BJP this time as they are upset with deputy CM Sachn Pilot not being made CM.
Bansilal Kumawat, a farmer, says that only a leader like Modi could avenge the Pulwama terror strikes. "If Congress had been in power, Rahul Gandhi would have thrown up his hands. Wing Commander Abhinandan would never have come back."
A group of women in Phulera voiced their dissatisfaction with the BJP. They say they have not received facilities such as cooking gas, regular ration and drinking water supply. Anchi Devi, 70, says: "I filled forms two times, but did not get gas cylinder." Radha Devi says water supply is erratic. "There is only one tap for a group of 40 houses" she says. They seem angry with the system. But the women say they will vote for 'kamal ka phool' (BJP). Asked why, Radha Devi says they have faith that Modi will improve things.
Close Story