Lok Sabha elections 2019: Left bets on its young star to get it right in its fallen bastion
Kanhaiya, a debutant to polls, has adopted innovative campaigning methods and has succeeded in grabbing eyeballs.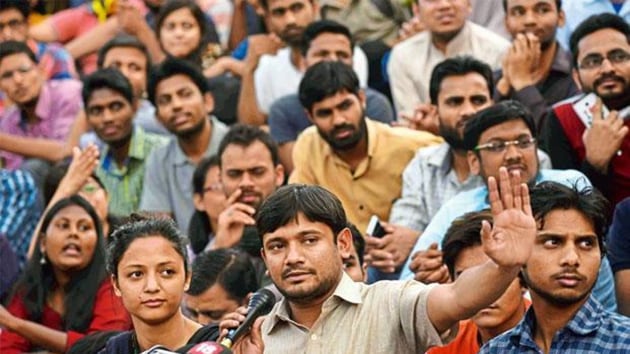 Published on Apr 28, 2019 12:53 PM IST
The Communist Party of India (CPI), which had held sway in Begusarai, once known as the "Leningrad of the East", is betting on Kanhaiya Kumar, a former president of the Jawaharlal Nehru University Students Union (JNUSU), to regain its lost ground in the area.
The CPI dominated the area politics from 1956 to 1996 during which it won multiple times from Lok Sabha constituencies of Begusarai and erstwhile Balia, whose five assembly seats fell into Begusarai district and has been since broken up and merged with adjoining Lok Sabha constituencies.
Now, the party is battling for survival, having lost the 2014 parliamentary elections and failed to win any of the seven assembly seats in the Begusarai Lok Sabha seat in 2015.
Kanhaiya, a debutant to polls, has adopted innovative campaigning methods and has succeeded in grabbing eyeballs.
His appeal, ever since sedition charges were pressed against him as a JNUSU leader in 2016, has ensured that the national media follows him to Begusarai. And, so has the Bollywood, adding glitz and glamour to his campaigning.
Among those from the Bollywood to have come to campaign for Kanhaiya were actresses Swara Bhaskar and Shabana Azmi, her husband Javed Akhtar, and director and producer Prakash Raj. Lending him support were also student activist and author Gurmehar Kaur, politician and researcher from JNU Shehla Rashid Shora and Jignesh Mevani, an MLA from Gujarat.
His supporters, essentially intellectuals from the JNU, have also been camping here for the past almost a month. They have fanned out to remote locations of the district to interact with people. JNU students, pass-outs and even faculty members have lent their support to Kanhaiya as he hopes to turn the tables on the BJP this time.
"One has to change with times… New tools and new vision have to be developed but the party faltered on this count," said Kanhaiya Kumar, when Hindustan Times asked him about the reason for the CPI'S downfall.
"Industries came up as part of the industrial revolution. This slowly paved way to class contradiction and emerging trade union. Differences surfaced between the Left government and communism (leading to disintegration of USSR). Though there was no Left government in India, everyone knows what happened in the name of Communism. Begusarai was not untouched by the world phenomenon," he added.
"The contradiction in Begusarai was, however, different. Here helplessness crept among the cadre due to global unacceptability of the Left. It is a 'dhakkosla' (sham) that some attribute the decline of the Left to castebased politics, which existed even earlier as well. However, things are different now. Globally, there has now been a new Left emergence," said the former president of JNUSU.
Party old-timers attributed the downfall of the Left in Begusarai to the rise of RJD chief Lalu Prasad's caste-based politics, the Mandal factor, global disenchantment with the Left and dissension within the CPI.
Close Story
Personalise your news feed. Follow trending topics