Lok Sabha elections 2019: Pragya Thakur takes another 'maun vrat' for comments on Nathuram Godse
May 20, 2019 04:26 PM IST
Pragya Thakur, BJP's candidate from Madhya Pradesh capital Bhopal said she will undertake a vow of silence to atone for her comments and sought an apology for several of her remarks.
The BJP's Pragya Singh Thakur said on Monday she will undertake a vow of silence to atone for her comments and sought an apology for several of her remarks, which provoked all-round criticism during the Lok Sabha election.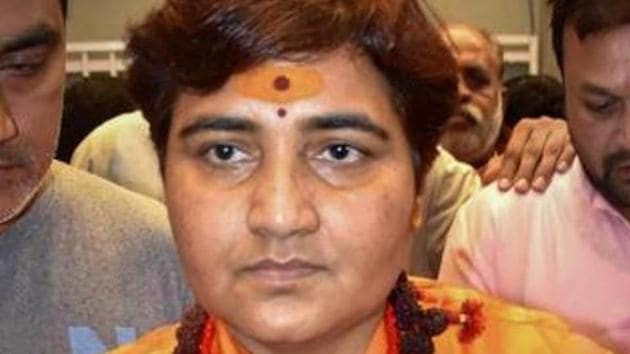 "After the election procedures, it is now time for contemplation and thinking. If my words have hurt patriots in the country, then I apologise and I will strictly follow a vow of silence in accordance with public life for 21 prahar (around three days) to atone for them," Pragya Thakur tweeted in Hindi.
Also read: Amit Shah ticks off 3 BJP leaders for Godse shocker, says not the party line
Pragya Thakur was named the BJP's candidate from Madhya Pradesh capital Bhopal in a surprise choice against the Congress' former chief minister Digvijaya Singh. She is facing trial in the 2008 Malegaon blast case where six people died and at least 100 were injured.
Thakur's latest comment was on Mahatma Gandhi's assassin Nathuram Godse, who she said was "a patriot, is a patriot, and will remain a patriot those who call him a terrorist should look within they will get a reply in this election". She was responding to a comment made by actor-turned-politician Kamal Haasan, who had claimed Godse was the first "Hindu extremist" in independent India.
Also read: Will never forgive Pragya Thakur for her remarks on 'Bapu', says PM Modi
The saffron-clad woman monk later apologised for her statement as she was hit by a barrage of criticism. Prime Minister Narendra Modi said on last Friday he will never be able to forgive Thakur for insulting Mahatma Gandhi. The BJP's president Amit Shah also said on Friday that the party had served Thakur a show cause notice and asked her to reply within ten days over her comment.
Before that the 49-year old had said in April that former chief of the Mumbai anti-terrorist squad Hemant Karkare was killed because of her "curse". Thakur had alleged Karkare tortured her while she was in custody in connection with the Malegaon blasts case. Karkare was killed fighting terrorists during the attacks on Mumbai on November 26, 2008.
Also read: Pragya calls Godse 'patriot', retracts after BJP steps in
She also boasted about her role in the demolition of the Babri Masjid in 1992. Thakur again apologised for her remarks on Karkare and Babri Masjid. The Election Commission barred her from campaigning for 72 hours over her two comments.
Pragya Thakur was on a "maun vrat" last month as well after she told a television news channel that she had taken part in the demolition of the disputed shrine at Ayodhya in 1992 and was "proud" of it.