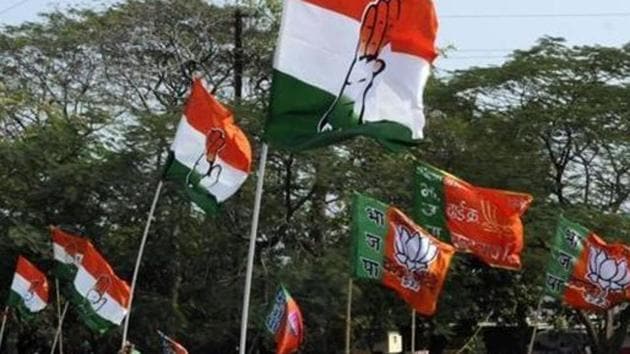 Madhya Pradesh election results 2018: BJP, Congress both confident of win as state stares at photo finish
Madhya Pradesh election results 2018: Exit polls in the state have predicted a neck-and-neck fight between the BJP, which is targeting a fourth straight term in power, and the Congress, which is attempting to wrest power after 15 years.
Hindustan Times, Bhopal | By HT Correspondent
UPDATED ON DEC 11, 2018 06:57 AM IST
Votes will be counted from 8 am today in the crucial Madhya Pradesh Assembly elections and the ruling Bharatiya Janata Party (BJP) and opposition Congress have both been working on plan B if they do not cross the majority mark on their own. Exit polls have predicted a tight race and a difference of just a few seats between the two parties in the state, where the BJP is seeking a fourth straight term in power, and the Congress is attempting to wrest power after 15 years.
The focus on Monday, thus, turned to smaller parties and independent candidates and senior leaders in both parties confirmed on condition of anonymity that they were working on permutations and combinations to finalise plans to ensure they could get their support to form government if required. Leads from both parties, however, expressed confidence of securing a majority on their own.
Chief minister Shivraj Singh Chouhan has dismissed the exit polls and said the BJP could cross 200 seats in the 230-member assembly. "We will romp home," he said earlier this month.
(Click here for Assembly election results live updates)
State Congress chief Kamal Nath said, "We will win more than 140 seats. Wait till tomorrow, everything will be clear by then." Party campaign committee chief Jyotiraditya Scindia had said on Sunday that the Congress had worked as a "united front" to dislodge the BJP and that there was an "uprising for change" across the state.
The prominent smaller players in the state are the Bahujan Samaj Party (BSP), Samajwadi Party (SP), Aam Aadmi Party (AAP), the Left, and SAPAKS (a party espousing the cause of upper-caste Hindus).
"Let the results come. Then there will be attempts by certain parties to seek our support. However, a decision on the same will be taken by Behanji [BSP chief Mayawati] only", said BSP state in-charge Ramachal Rajbhar.
Samajwadi Party state spokesperson Yash Yadav said no party had approached them so far but that he was expecting calls on Tuesday once the results were out.
(Click here for Madhya Pradesh assembly results live updates)
Polling was held on November 28 during which 38.9 million voters out of the more than 50 million voters cast their votes at more than 65,300 polling booths across the state for 230 seats. The turnout rose from 72.69 %in 2013 assembly elections to 75.05%.
During a high-pitched election campaign, the BJP attacked the Congress for what it alleged was the misrule of the party for 50 years and blamed it for backwardness of the state. The Congress hit the BJP on the Vyapam scam and farm distress, while promising a loan waiver.
The Election Commission has made elaborate arrangements for counting day. State chief electoral officer VL Kantharao said: "There would be 306 halls and 3,220 tables for facilitating the counting which would take place at all the district headquarters. About 15,000 employees have been engaged in the counting work. Counting will begin at 8am and it is expected to be completed by 5pm."
The chief electoral officer said 230 observers will declare the results after every round of counting. On an average, the counting would be completed in 22 rounds. "After the completion of every round, the tabulation sheet will be pasted with signatures of authorities concerned," said Kantharao.
Catch all the live updates from Assembly Elections Results 2018
Close