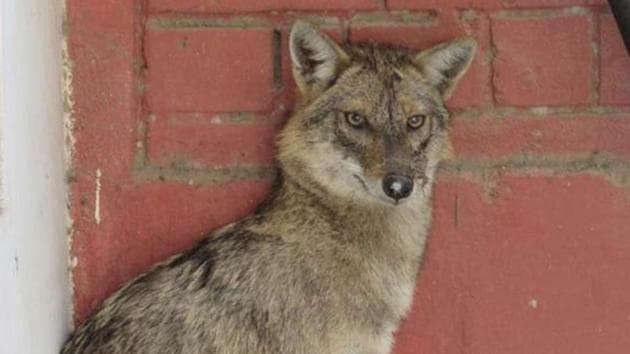 12 jackals roam in one of the mangrove forests in Mumbai, govt may lay trap
State forest officials said a single jackal attacked all three men and the animal would be trapped soon
UPDATED ON MAY 04, 2017 01:27 AM IST
A day after three men were attacked in a span of 12 hours by jackals near the Ghatkopar mangroves, the state mangrove cell told HT that around 12 jackals roam the protected mangrove forests.
State forest officials said a single jackal attacked all three men and the animal might be trapped soon. "Locals told us that the security personnel have been feeding their leftover food to jackals, which is why they were returning to the site," said Santosh Kank, range forest officer, Mumbai.
"If such incidents increase, we might trap the animal as only one is aggressive."
Jackals are protected under schedule III of the Wildlife Protection Act, 1972. On Tuesday, security guard Rakesh Shukla, 42, was attacked by a jackal near a mangrove patch at Ghatkopar. Two more attacks were reported – one on a municipal guard on Monday and a local resident on Tuesday. "While no official census has been carried out by the forest department, based on visual confirmation and discussions with locals, we can confirm the presence of around 12 jackals in the Ghatkopar-Vikhroli mangrove forests and eight at Airoli," said Makarand Ghodke, assistant conservator of forest, Mumbai Mangrove Conservation Unit. "The jackals feed on crabs, prawns and other crustaceans."
Since the attack took place near the land owned by Godrej, the company issued a list of guidelines to its security team on Wednesday. "This is the first jackal attack in Mumbai's mangroves and there is no protocol in place to deal with them. Since mangroves are under the jurisdiction of the state forest department, they need to initiate action," said a spokesperson from Godrej. "We issued guidelines to our security team to prevent future incidents."
Wildlife activists said trapping the animal must be a last resort. "While jackals are known to frequent mangrove areas, they have never attacked humans. Forest officials should patrol the area, identify if the animal is a jackal and then consider trapping it," said Pawan Sharma, president, Resqink Association for Wildlife Welfare.
Godrej to its security team
- Ensure more than one person, preferably a group, mans areas near mangroves
- Guards need to carry any device that makes noise to alert animals about human presence
- Animals mostly attack humans when they are sitting or squatting. In a conflict, the personnel must be standing
- Ensure that the right equipment such as strong canes or bamboo sticks are carried for self defence
- Carry a torch in the evening and night.
Close