2 Mumbai trekkers survive 200-foot fall, rescued from Raigad after 5-hour operation
Updated on Jul 11, 2017 02:58 PM IST
Mumbai city news: The incident took place around 3pm on Sunday afternoon at Peb Fort or Vikatgad, near Neral, Matheran, which is 2,500 feet above sea level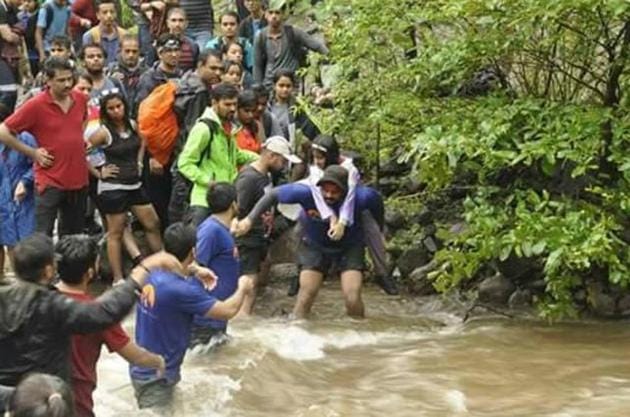 Two Mumbai trekkers were rescued after a five-hour long rescue operation from Raigad district on Sunday after they survived a 200-foot fall as they were coming down a hill.
The incident took place around 3pm on Sunday afternoon at Peb Fort or Vikatgad, near Neral, Matheran, which is 2,500 feet above sea level. It is located the north-eastern side of Panvel on the Mumbai-Pune expressway and is 53km from Mumbai.
This is the third incident in Maharashtra in the last three weeks after 55 students were stranded near Devkund in Raigad district, between two streams of the Kundalika river. In another incident during the last week of June, two people lost their lives during the same trek at Devkund.
According to the Raigad and Navi Mumbai police, 15 people have died, and 50 others hurt at various waterfalls and hilly areas around Mumbai since the beginning of the monsoon season.
On Sunday, the trekkers, Harsh Pitesh Mehta, 28, and Rutika Kapasi, 21, and both residents of Kandivli, suffered serious injuries, said police officers. While the girl had a severe head injury the boy's leg was fractured. Both were rescued around 8.30pm on Sunday evening.
The rescue operation was carried out by close to 20 people, including four police personnel, three members of Nisarg Mitra Panvel rescue team and locals from the area. "Since it has been raining heavily at this hilly area, the trek is very slippery. On their way back from the trek, the girl slipped very close to a ridge and in an attempt to save her, the boy tried to grab her hand. But unfortunately both slipped and rolled almost 200-feet down the hill," said Somnath Jadhav, assistant police inspector, Neral police station. "While the locals immediately began the rescue, our police and rescue teams reached the spot with ropes and climbed down to rescue them."
According to members of Nisarg Mitra Panvel rescue team, there were 600 people that went for the Peb Fort trek on Sunday. "Our team rescued 150 people who were behind the two trekkers that had fallen," said Sachin Shinde, rescue team leader.
He added since the two were injured, they could not move. "This made the rescue operation difficult but we managed to pull them up," said Jadhav. "The two were brought down using stretchers and rushed to the nearest hospital for further treatment. Their parents reached the base of the trek and rushed them to a hospital in Panvel. They are out of danger and will be fine."
Jadhav added that they had already been directed to install a warning signage at the base of the trek to follow basic protocols of safety before climbing. "We will request citizens to avoid this trek till September," he said.
Another Mumbaiite who completed the trek before the incident took place said it had rained heavily, making the trek quite difficult. "There was heavy rain and thundershowers for about half-an-hour, which made it very difficult for us to grip during the trek down," said Arpit Shah, trekker from the Mask Group in Mumbai. "We saw police personnel rush up and were told a serious incident had happened."
HT had reported on June 29 that trekkers from across Mumbai had come up with a list of spots that are unsafe for vacationers, amateur trekkers and picnickers till September (see box).
Experts said the trek to Peb Fort was difficult for amateur trekkers. "We identify this trek as moderately difficult for experienced trekkers but a good 10 to 15 foot patch is not very easy to climb and with the flow of water from local waterfalls, people need to be careful in these areas," said Navi Mumbai resident Utkarsh Erandkar, an experienced trekker with Guerrilla Adventures
The weather bureau said Matheran received 15mm rain between 8.30am and 5.30pm on Sunday. Shinde said heavy rain continued throughout the trek down to the base camp.
Personalise your news feed. Follow trending topics