A cotton crisis is looming large in Maharashtra
Nov 29, 2017 12:45 AM IST
Field after field in the various districts of Vidarbha, planted with cotton during the rabi sowing season, have been infested with the Pink Bollworm
There is a major crisis in the cotton county of Maharashtra and the government is blissfully unaware of the looming disaster they could soon be faced with.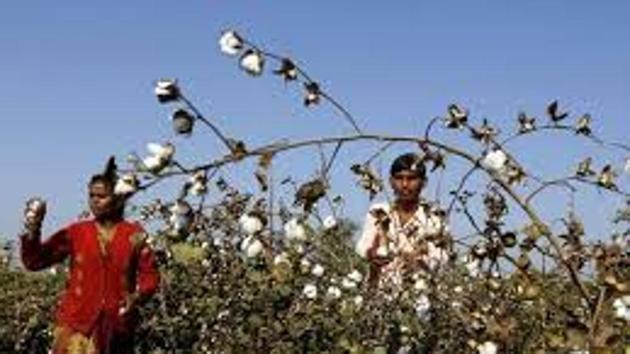 Field after field in the various districts of Vidarbha, planted with cotton during the rabi sowing season a couple of months back, have been infested with the Pink Bollworm (gulabi boand in Marathi) and farmers are at their wits' end combating the pest.
They had recently taken to Bt Cotton after years of fierce resistance when they were finally persuaded that this biotechnologically modified seed could resist all pests and diseases. But, last year, farmers in the adjoining districts of Telangana noticed that the Pink Bollworm had now become resistant to pesticides and the Bt Cotton vulnerable to these pests. Yet, with the Central Institute of Cotton Research (CICR) headquartered in Nagpur, no steps were undertaken to warn farmers against the spread of the Pink Bollworm to neighbouring Vidarbha.
The Pink Bollworm is a species of moth and there seems to be large scale breeding of the pests as people are reporting infestation not just from their cotton fields but across homes and other areas. According to Professor Ghanshyam Darne, who works closely with farmers in the region, these farmers have gone out on a limb spraying pesticides over and over again but the Pink Bollworms show no signs of receding. In many cases they have spent over a lakh of rupees on pesticides and fertilisers to no avail. "Farmers now realise that they have lost 80 to 90 per cent of their crop. So they have given up and are running tractors over their standing cotton crop. Their yields this season are going to be at the most five to six per cent," Prof. Darne told me.
According to the CICR, which has been unable to home in on a pesticide that will prove effective, the best way to combat the moth is to set pheromone traps across their fields and catch enough of the male of the species to prevent any further breeding. But this primitive method of catching the Pink Bollworm is simply beyond the comprehension of the farmers. I am told that, firstly, you need at least 40 such traps per acre for these to be effective. Pheromones, mixed with natural ingredients like glossyplure, confuse the male moths who mistake the traps for females but farmers who have used it reported poor results.
Some farmers say the Union government was aware in August that parts of Andhra Pradesh, Gujarat, Karnataka and Maharashtra had been infested with the Pink Bollworm and ordered the seed companies to compensate the affected farmers for their loss. However, it is November-December when the moths really begin to breed in profusion (it takes only three or four days for the eggs to hatch) and the CICR had tips on avoiding the infestation - sowing at optimum heat and using a 12-week variety of seed as these moths begin to infest the crop at 15 weeks. Now with a month more to go when these Bollworms will continue to breed profusely - there is not a single village anywhere in Vidarbha that has not reported the pestilence - it is no wonder that farmers are crushing their cotton under their tractors to cut their losses. Many, according to Prof. Darne, have decided to sow pulses and other crop but what worries him now is the fallout of their economic situation.
Many farmers are yet to receive their loan waiver amounts in actual cash or digital terms. Only farmers who had taken loans of less than Rs 1,50,000 were eligible for these waivers. Many of the eligible farmers have already spent as much or more in fighting this pestilence. They could thus immediately fall into the cycle of debts and repayments again, particularly as they will not be able to realise their cotton harvest this season. Although they are taking to pulses cultivation, they have not yet forgotten their experience of the last harvest of pulses. Farmers in the state had produced a bumper crop of tuar daal but the government could not come up with minimum support price for all of their crop. From May to the onset of monsoon, these farmers were sleeping on their gunny bags of tuar daal in the market yards across the state until the first showers soaked and destroyed it all. That contributed to the intensity of their agitation for loan waivers.
Now they are back to Square One. Expect a spike in suicides very soon!
"Exciting news! Hindustan Times is now on WhatsApp Channels
Subscribe today by clicking the link and stay updated with the latest news!"
Click here!