Almost 40% of Mumbai may be submerged in next 100 years: Study
Dec 22, 2016 10:40 AM IST
The study is under review by the scientific community and will be published soon
Nearly 40% of Mumbai could be under water in the next 100 years if sea levels continue to rise, says a research paper that looked at Mumbai's susceptibility to climate change.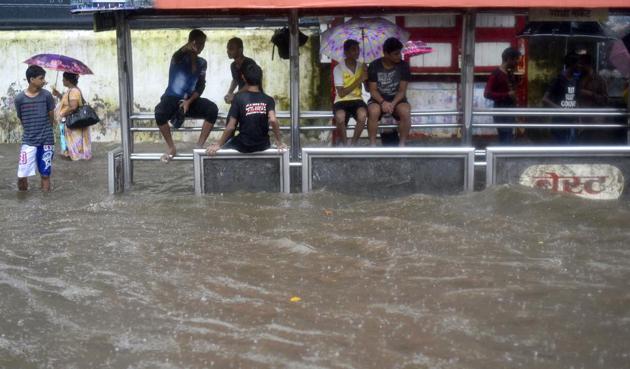 The findings are from an unpublished research paper were discussed during the National Symposium on Tropical Meteorology; Climate Change and Coastal Vulnerability (Tropmet 2016) held by the India Meteorological Society at Siksha 'O' Anusandhan (SOA) University at Bhubaneshwar, Odisha between December 18 and 21. The paper states that 190 sq km of Mumbai's 458.53 sq km could be flooded.
"As the population is increasing exponentially and the city is expanding fast, it is necessary to understand if our surroundings are safe," said R Mani Murali, scientist from National Institute of Oceanography (NIO) and co-author of the paper along with Riyas MJ, Reshma KN and Santhosh Kumar.
"Going by previous studies by NIO researchers, we considered a 3mm rise (annually) in sea levels along Mumbai's coast. That, coupled with factors such as natural calamities and tidal changes, will result in an approximate increase of 3m," said Murali.
The study is under review by the scientific community and will be published soon. The project was undertaken after the state reached out to the NIO to understand the impact of climate change and sea level rise around the city. "Global warming — taking place as a result of global carbon emissions — is raising global temperatures. Currently, this has crossed 400 parts per million on a global scale, which is very high," said Murali. "This leads to the melting of continental ice glaciers, and paves the way for a rise in sea levels owing to the thermal expansion of sea water."
The study area included the western coast from Colaba in the south till Mira Bhayander and along the Thane creek on the eastern coast of the city. Mumbai has an average elevation above sea level of 14 metres with some coastal areas as low as 6m to 8m, rising to over 400 metres in the hill at Sanjay Gandhi National Park. "While a major part of the south Mumbai coastline has been protected using measures such as building walls and placing boulders, low lying creek areas are vulnerable as some are at the sea level (Gorai) while others are a mere 1.5m to 3m above sea level such as Mira Bhayander and areas around Andheri, Versova at Mumbai suburbs," he said.
EXPERTS SPEAK
"While the projections need to be approved by the scientific community, the confidence level – low, medium, high – depending on whether the event will actually happen, needs to be included with the published study and communicated to the government, so that appropriate measures can be taken to tackle such a calamity," said E Vivekanandan, consultant and scientist, Central Marine Fisheries Research Institute.
'Essential to protect mangroves to save Mumbai from coastal inundation'
Mumbai's mangrove forests that stabilise the coastline and control erosion are vital for protecting the city from the project coastal inundation, said scientists from National Institute of Oceanography. However, unabated destruction of mangrove trees continues with an average of one case every month.
"Most low-lying areas such as creeks, mudflats and wetlands that might fall prey to coastal inundation 100 years from now are protected due to Mumbai's thick mangrove cover. If this cover is reduced, it could be disastrous for the city's future as the inundation effect be severe," said R Mani Murali, scientist from NIO.
How was the study done?
To get an idea about what could be the probable vulnerable areas, the study based on the 30 metre spatial resolution digital elevation model (3 D model), which identifies that there is an elevation from sea level at every 30m distance as per theory but it may not be true on ground. "We have developed a map with probable areas where the coastline may get altered and will be publishing the same once the review process is completed," said Murali.
Read
65 evacuated from flood-hit Marathwada
Vasai firemen rescue 25 stuck in flooded homes
Heavy rain ends water woes, but likely to cause flooding in Maharashtra