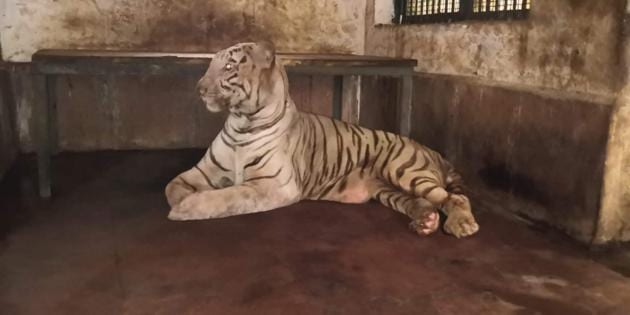 Bajirao, last captive white tiger at Mumbai's national park, dies at 18
The tiger's autopsy carried out by the pathology department of BVC indicated multiple organ failures along with old age as the probable cause of death
PUBLISHED ON MAY 04, 2019 12:30 AM IST
The last captive white tiger inside Sanjay Gandhi National Park (SGNP) died of age-related complications on Friday morning. The animal was 18 years old.
Park officials said the tiger, named Bajirao, was the eldest male in their enclosure and was unable to walk for the past 10 days.
"It is a great loss for the park as Bajirao was the last remaining captive albino tiger we had," said Anwar Ahmed, director and chief conservator of forest, SGNP. "However, this puts an end to the animal's long-suffering. He was not part of the tiger safari due to his condition."
Senior veterinarian Dr Shailesh Pethe, who works at SNGP, said the average lifespan of tigers is between 14 and 16. "Bajirao had been suffering for the past four years due to chronic ankylosis (a form of arthritis primarily causing inflammation and resulting in severe chronic pain). His elbow joint had disappeared resulting in the formation of a single bone, which deterred him from walking," he said.
Bajirao was born in SGNP in 2001 to tigress Renuka and tiger Siddharth, both white tigers brought from Aurangabad Zoo in 1999. While Renuka died in 2009 after being diagnosed with skin cancer at the age of 13, 20-year-old Siddharth died on June 4, 2015, due to old age.
SGNP, since its inception, has had only four white tigers in captivity.
An expert advisory committee, comprising of senior veterinarians, both current and retired from SGNP and the Bombay Veterinary College (BVC), had been monitoring Bajirao's health over the past four years.
The tiger's autopsy carried out by the pathology department of BVC indicated multiple organ failures along with old age as the probable cause of death. "The post mortem findings were suggestive of lesions (rotting or putrefied tissues) in visceral organs such as the kidney, heart, and liver," said Pethe.
Bajirao's carcass was burnt after the autopsy as per National Tiger Conservation Authority guidelines. There are six remaining Royal Bengal tigers at the park– four female and two male, all above 10 years of age.
Close