BJP, Shiv Sena workers spar at opening of Ram Mandir station
Published on Dec 23, 2016 11:22 AM IST
The incident has also illustrated the growing bitterness between the ruling alliance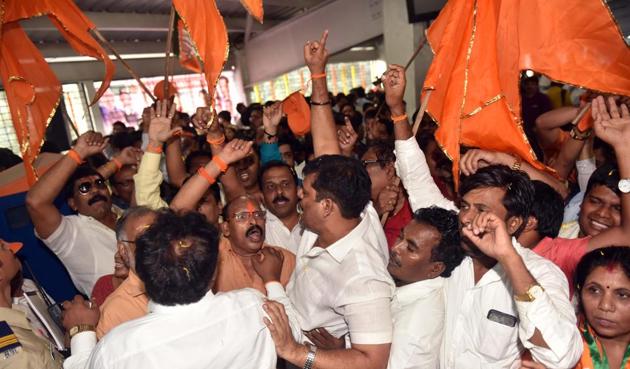 The new Ram Mandir station turned into a political battle ground on Thursday, with the Bharatiya Janata Party (BJP) and Shiv Sena workers resorting to sloganeering, both claiming credit for the station.
The spat intensified to such a level that railway minister Suresh Prabhu — who inaugurated the station — and state transport minister Diwakar Raote could not be heard over the din. The programme had to be wound up in a haste to avoid a tussle.
The incident has also illustrated the growing bitterness between the ruling alliance, weeks before the crucial Mumbai civic polls. The parties have not yet decided whether to continue the alliance for the civic polls, as both are eyeing a larger share of the power.
Apparently, both sides wanted to claim credit for the new station and its name. The station, on the western line, was earlier meant to be named Oshiwara, after the surrounding area. However, it was renamed Ram Mandir after a nearby temple, following demands by the BJP and Shiv Sena.
The fracas started as workers of the BJP, Vishva Hindu Parishad (VHP) and Bajrang Dal started shouting slogans such as 'Jay Shri Ram, Modi and Bharat Mata Ki Jai' as the start of the event. Shiv Sena workers — who were present in sizeable numbers — responded with slogans such as 'Udhavaji ki Jai' and 'Shiv Sena Zindabad'. Leaders from each party blamed the other for the chaos.
Shiv Sena leader Ravindra Waikar and BJP leader Vidya Thakur each credited their own parties for naming the staion.
Not just the station, but the lane leading to the station was also packed with political workers, causing a traffic jam.
The much-awaited suburban station was inaugurated after being delayed twice. Earlier, the construction of the station was delayed owing to a lack of land. It was delayed once again after being completed as political parties were arguing over the name.
Located 1.75km from Jogeshwari and 2km from Goregaon, the project, worth Rs28 crore, was commissioned by Mumbai Railway Vikas Corporation (MRVC) in 2011 to decongest Jogeshwari and Goregaon stations.
Read
What's in a name? Lots during election season