Cong will form grand alliance of Opposition parties for 2019 polls, says Rahul Gandhi in Mumbai
Gandhi, however, avoided responding to queries regarding the prime ministerial candidate of this alliance.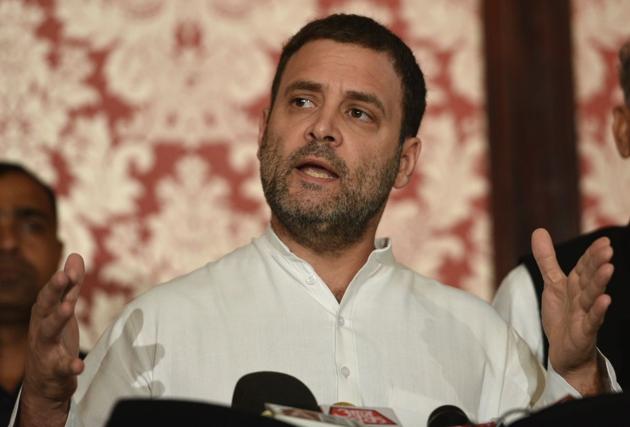 Updated on Jun 13, 2018 03:22 PM IST
It's not just political sentiment, people too are against the Bharatiya Janata Party (BJP) and the Rashtriya Swayamsevak Sangh (RSS), Congress president Rahul Gandhi said at a press conference in Mumbai on Wednesday, adding that the Congress would take it forward by forming a grand alliance of Opposition parties for the 2019 elections.
The media was called for the press conference at 8.30am , but it lasted just two-and-a-half minutes. Gandhi arrived around 45 minutes late, took only one question — about the prime ministerial candidate of the alliance — and dodged it.
He spoke briefly after that and left to go to Mumbai airport, from where he was flying to Nagpur.
"The PM and the BJP have been attacking the Indian Constitution and the country's institutions constantly. The Congress will act against it," he said at MCA Club in Bandra-Kurla Complex.
Criticising the BJP over rising inflation and taxation, Gandhi said: "The BJP government is working for the interests of 15-20 rich people in the country."
The government has turned down the Congress' demand to bring petrol and diesel under GST, he added. "Despite a huge fall in the prices of crude oil [globally], petrol and diesel prices are high. The common man in Mumbai and across the country is at the receiving end. Direct Benefit Transfer has been activated for a handful of rich people and the poor are suffering."
Later, the city Congress later said there had been a "misunderstanding" about the conference. "It was not a press conference. After some TV channels expressed their wish to interact with Rahulji, we invited the media for a byte with our leader, who was on his way to the airport," Mumbai Congress chief Sanjay Nirupam said, though the message sent by his office to journalists had invited them for an interaction with Gandhi.
From Mumbai, Gandhi flew to Nagpur and then took a chopper to Nanded village in Chandrapur district to visit the family of Dadaji Khobragade, an award-winning agriculturist who revolutionised rice farming, who passed away in the first week of June.
Later, he is scheduled to address a farmers' 'chaupal' (village meeting) there and then fly back to Delhi in the evening.
Close Story