Clear debris from Navi Mumbai pond: Wetland committee to Cidco
Guidelines will be issued to planning agency after forest officials inspect the area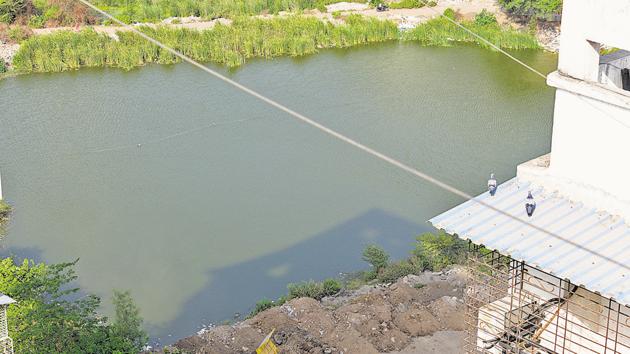 Updated on Jun 01, 2018 12:56 AM IST
A day after Kharghar residents complained about debris dumping near the holding pond, their efforts to save the water body got a push.
On Thursday, wetland grievance committee heard the matter which was filed on May 15 and termed the debris dumping illegal. The Bombay high court-appointed committee directed the City Industrial Development Corporation (Cidco) to remove the dumped debris.
District forest officer Pandit Rao said, "Matter has been heard and necessary guidelines has been issued to Cidco. We will inspect the area and take a decision accordingly."
Stalin Dayanand, a member of the wetland committee, inspected the holding pond area on Thursday and submitted his report to the Konkan commissioner.
"Dumping debris in the holding pond is a clear violation of the court order. Cidco has to remove the debris and stop further dumping in the area. The pond is a natural waterbody and no one can dump debris here," said Dayanand.
Forest officials will visit the pond area on Friday and based on their report, guidelines would be issued to Cidco, which owns the plot.
Stalin has also advised people that public interest litigation (PIL) on debris dumping could be filed with the Talawe wetland case and other similar cases which are being heard.
The residents, those have started campaigns to save the pond, are happy with the outcome.
The city-based NGO Abhivyakti had filed a plea against debris dumping in the pond at sector 18 and 19 in Kharghar. More and more residents are joining the campaign to save the holding pond.
"Since the day we found more debris dumped near the pond, we were concerned and had been meeting officials to address the issue. After the wetland committee members assured us they would ensure no further dumping would take place, I feel that our efforts have not gone in vain," said Nareshchandra Singh, member of NGO Abhivyakti.
Read more: Residents' group cleans polluted Kharghar pond
The entire area of the pond is 5 hectares but it has shrunk to 1.5 hectares because of the debris dumping..
Abhishek Gulekar, 32, a resident of Sector 19, said, "It is an honest effort by residents to save the pond. It took time and detailed planning to execute the plantation drive. Fresh debris being dumped is a setback but we are happy that court has asked Cidco to be responsible and remove the debris. The court has given momentum to citizen's movement."
On Sunday, the residents took part in a plantation drive and planted around 200 saplings around the pond. They had been watering them till the debris was dumped one night.
Topics
Close Story