College students clean Mumbai's dirtiest beach, clear 600kg garbage in two days
A 2016 study by ReefWatch Marine Conservation discovered that Chimbai beach, one of the smallest in the city, was its dirtiest. At any time, there is an average of 30 tonnes (30,000kg) of garbage on the beach...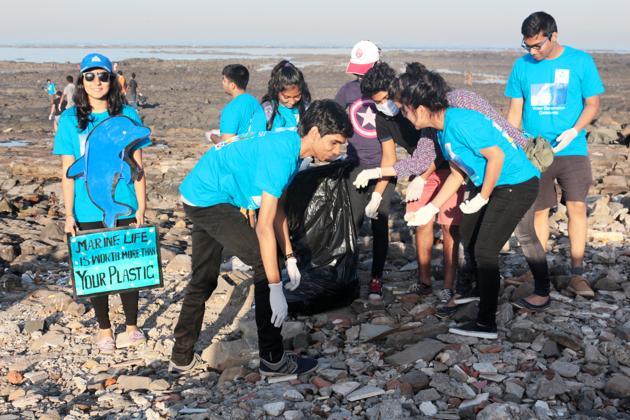 Published on Mar 06, 2017 12:14 AM IST
The movement to clean city's beaches is gaining momentum, with students from 12 Mumbai colleges starting a year-long clean-up drive at the dirtiest beach, Chimbai in Bandra.
About 250 college students from St Andrew's College, Bandra (West), Siddharth College, Fort, Sydenham College, Fort, Rizvi College, Bandra (West), MMK College, Bandra (West) and another seven prominent colleges (see box) have cleared 600 kg of trash in two days (February 26 and March 3) from the beach.
A 2016 study out by ReefWatch Marine Conservation discovered that Chimbai beach, one of the smallest in the city, was its dirtiest. At any time, there is an average of 30 tonnes (30,000 kg) of garbage on the beach. Researchers found 226 kg of trash every 200 square metre. Juhu beach, which is cleaned regularly, had 19kg and Versova, which is now the focus of a major clean-up operation, had around 54 kg. Aksa, on the city's outskirts produces 7.65 kg of trash in the same area. Chimbai's topography — more rocky than sand — traps most of the garbage between the rocks, preventing it from being washed away by the sea.
The Chimbai project is being lead by Water Conservation Community, a nationwide movement bringing together the colleges of Mumbai, citizens groups, artists and experts, to clean-up beaches and coastlines.
"Chimbai is loaded with trash, mostly comprising domestic waste discarded from slums and households from the neighbouring areas. Being a rocky beach, cleaning will take time. College students ensured that an entire truckload of waste was collected and sent to the dumping ground," said Shibani Sachdeva, lead associate, Joy of Water Foundation, the citizen's group that is organising the cleaning. "People have been trying to clean Chimbai since 2004, but haven't met with much success."
She added that more than cleaning, the aim of the project is to sensitise young minds about ocean pollution, using poetry, painting and photography to drive home the idea. "We need to stand up and take responsibility of what we are doing to our beaches and the ocean. All the colleges have shown significant interest towards the initiative and we hope to make a difference through the year," said Sachdeva.
Brihanmumbai Municipal Corporation (BMC) officials said they are also involved in the project. "Since students are involved in removing waste, we have ensured that at least 20 BMC workers are present at the site to help them pull out waste from difficult areas at the beach," said Chandrakant Tambe, junior overseer of H-west ward, BMC solid waste management department. "Moreover, two dumpers will be provided at the beach for proper waste management."
Both the students and teachers spoke enthusiastically about their plan to clear Chimbai of its trash. "This programme is close to our hearts not only because of the cause of protecting our oceans and creating a clean coast in Mumbai, but also because of the nature of the campaign. We were all touched personally and felt like celebrating after every clean-up activity," Sanket Tambutkar, NSS student leader, Siddharth College.
Dr Marie Fernandes, principal of St Andrews College, said, "Students are passionate about saving our planet and cleaning up water bodies because water is vital to life. It is important to realise the oneness with nature through the concept of Vasudev Kutumbakam (one world, one family)."
Authoritiespeak
"The BMC will actively participate and lead the initiative to clean Chimbai along with college students and local NGOs. We will be appointing an agency to further enhance and expedite the cleaning process. The drive has just begun and we putting together a complete project plan under the centre's Swacch Bharat Abhiyaan. It will help create awareness and make citizens understand that the youth is actively involved in cleaning city beaches," said Sharad Ughade, assistant municipal commissioner, H-west ward.
Studentspeak
"The initiative made us aware that we really need to take a step further and work towards having clean surroundings, especially along our coastline. We are really glad that we are a part of this movement and it is our duty to bring the change we desire," said a student from St Andrew's College.
Colleges supporting the cause
St Andrew's, Bandra
Siddharth College of Arts and Commerce, Ananda Bhavan, Fountain
Sydenham College, Churchgate
Lala Lajpat Rai College, Haji Ali, Worli
KC College, Churchgate
Rizvi College, Bandra
MMK College, Bandra (West)
LS Raheja College, Santacruz
Sir Vithaldas Thackersey College of Home Science, Santacruz
Veermata Jijabai Technological Institute (VJTI), Dadar
Khalsa College, Dadar
Narsee Monjee Institute of Management Studies, Vile Parle
Also read: Green tribunal fines Mumbai builder ₹40 lakh for destroying Khandala hill
Close Story