Cops sent into tizzy after bomb hoax at Mumbai's Vitthalwadi railway station
Although train services were not affected, the police were seen pacifying commuters, discouraging them from spreading panic.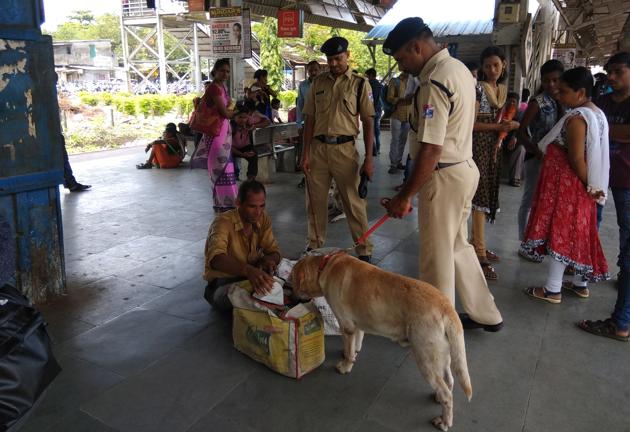 Published on Jun 16, 2018 12:40 AM IST
Security forces carried out searches at Vitthalwadi railway station on Friday afternoon after an unidentified caller told the Mumbai Police control room that he had placed a bomb at the railway station and it may explode in a few hours. The call turned out to be a hoax. The police are trying to trace the caller and said the caller is from Mumbai.
Upon receiving the call, police officers in the control room immediately alerted senior officials. The Thane police too was informed about the call along with the Government Railway Police (GRP) and Railway Protection Force (RPF).
A bomb squad and dog squad from Kalyan division rushed to the spot. They carried out checks at the station area and after almost two hours, found the call to be a hoax.
A police officer from Thane commissionerate said, "We traced the number from which the call was made and contacted it more than four times but there was no answer. Now the phone is switched off. We are also in process of tracking the location of the number. It was a fake call and the caller is from Mumbai".
Railway services were not affected. "For two hours, officers from GRP, RPF and police were at the spot keeping guard near Vitthalwadi railway station. They were also trying to maintain peace among the commuters. Upon seeing the police in such huge numbers a few of the commuters were taking pictures but we stopped them from circulating the same on social media as it might send the wrong message to others".
Dinesh Savla, 28, a resident of Ulhasnagar, said, "I had come to drop my relatives as they were heading towards Mumbai. The moment I heard about the bomb I got scared and asked my relatives at the railway station to leave the next day or some other day. A number of police personnel were at the station. But after I came home, I was told by my friend that it was a hoax call. The person who made the call must get severe punishment or else such calls will continue in the future."
Close Story