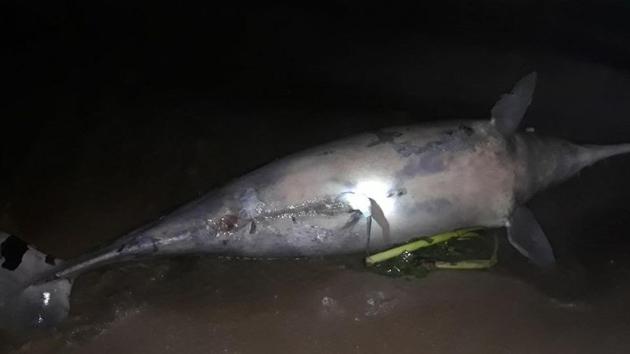 Dead dolphin washes ashore Versova beach in Mumbai; third marine mammal this year
The dolphin was buried at the beach on Thursday morning.
PUBLISHED ON MAY 03, 2018 10:08 PM IST
A 7-8-ft-long carcass of an Indo-Pacific humpbacked dolphin washed ashore the rocky end of Versova beach on Wednesday night. It was buried at the beach on Thursday morning.
This is the third marine mammal death at a city beach this year. A 5.5-ft-long dolphin washed ashore Juhu beach on February 23, while the carcass of a finless porpoise was found in Mahim in March.
A total of 82 marine deaths have been reported across the beaches in Mumbai over the past three years.
The Indo-Pacific humpbacked dolphin is protected under schedule I of the Wildlife Protection Act, 1972.
Local residents and members of the Versova Residents' Volunteers (VRV) said they spotted the carcass around 11.15pm. "After getting a call, officials from the mangrove cell, Versova police and civic body reached the site. The dolphin must have died in the sea," said Afroz Shah, a lawyer and beach clean-up crusader.
As the carcass was mutilated, the forest department could not conduct a post-mortem.
"The mammal's internal organs were protruding from its face and the stomach had bloated. With the stench, getting tissue samples too was almost impossible," said Prashant Deshmukh, range forest officer, Mumbai (west) of the state mangrove cell.
"Using ropes, our volunteers got the carcass away from the shore between 12am and 2am. We dug a 12x5-ft pit using an excavator machine gifted to us by Amitabh Bachchan. The carcass was placed in the pit, which was then covered with pebbles and sand," said Shah.
For speedy burial or rescue of marine mammals, the state mangrove cell plans to build marine mammal rescue centres in every district along Maharashtra's 720-km coastline at a cost of ₹1 crore. "The city's first marine mammal rescue centre may come up at Juhu beach by the end of the year," said Deshmukh.
Close