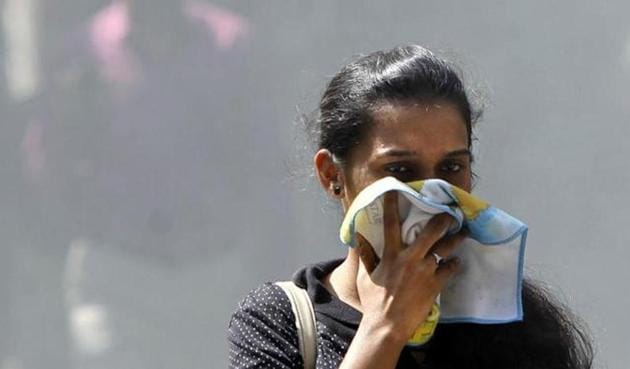 Five of 10 locations in city have 'very poor' air
The city can expect similar conditions for another week
PUBLISHED ON DEC 23, 2016 11:45 PM IST
Low night temperatures over the past three days led to a spike in pollution levels, with five of 10 locations in Mumbai recording 'very poor' air quality index (AQI) levels on Friday. The remaining locations recorded 'poor' AQI levels. Not a single location recorded either 'moderate' or 'good' air quality.
The pollutant measuring indicator for Mumbai on Friday fell under the 'poor' category at 272. A similar AQI was predicted by the System of Air Quality Weather Forecasting and Research (SAFAR) for Saturday. AQI levels between 101 to 200 are 'moderate', 201-300 is 'poor' and 301 and above this is 'very poor'.
Navi Mumbai was the most polluted location on Friday with an AQI of 344 (very poor), followed by Bandra-Kurla Complex, Chembur, Andheri and Malad, all recording 'very poor' pollution levels. The cleanest air in the city was recorded at Worli, which recorded pollution levels at 202, still falling under the 'poor' category.
Minimum temperatures at the Santacruz weather station, representative of the suburbs, fell to 16 degrees Celsius — 2 degrees Celsius below normal — on Friday, as compared to 18 degrees Celsius on Tuesday. The night temperature at Colaba, however, was closer to the normal mark.
"Along with a clear sky, the wind pattern over the city is north-easterly. This means that the city is observing cool air during the night and early hours of the day. The intense heat of the sun raises temperatures during the rest of the day. However, it is still close to the normal mark," said Biswajit Mukhopadhyay, additional director general, India Meteorological Department. "Owing to low overnight temperatures, pollutants are getting trapped closer to the surface since Wednesday morning. The north-easterly winds block the sea-breeze from setting in at the right time."
He added that the city can expect similar conditions for another week. "The wind pattern is likely to remain the same and apart from additional sources of pollution, Mumbai's AQI should be within the 'poor' category," said Mukhopadhyay.
The day temperature at Santacruz, representative of the suburbs was 32.6 degrees Celsius, 0.8 degree Celsius above normal. Colaba, representative of south Mumbai, recorded the day temperature 0.5 degrees Celsius below normal at 32.6 degrees Celsius.
The weather bureau predicted a clear sky for Saturday with day and night temperatures expected at 33 degrees Celsius and 16 degrees Celsius respectively.
Read
Warmer weather reduces pollutants in Mumbai's air
Air in Mumbai continues to be poor
Close