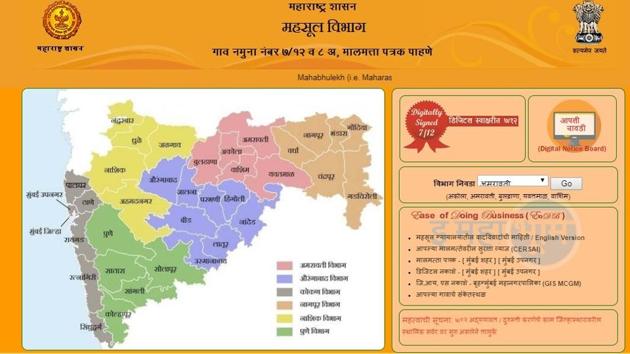 Digitally signed land title documents available online in Maharashtra
Chief Minister Devendra Fadnavis to inaugurate the project on Tuesday; people won't need to go to collector's or tehsil offices for document
UPDATED ON MAY 02, 2018 12:32 AM IST
Land owners in Maharashtra will now be able to access crucial land record documents online. The government has made available the 7/12 extract — a crucial document from the Land Register of any district in Maharashtra that gives complete information about a particular piece of land — online with a digital signature. This will allow owners to use a printed copy of the document for official.
"From now on, people won't need to go to the collectors or tehsil offices to get the 7/12 extract. These records can be accessed from anywhere. It will reduce human interference, which will help us curb corruption and keep a check on fraudulent cases," chief minister Devendra Fadnavis said while unveiling the project on Tuesday.
Though, the project was unveiled on Tuesday, land records (7/12 extract of land) from three districts — Sindhudurg, Ratnagiri and Solapur are yet to be updated with digital signatures, and will take another three months to become available. "The services will be made available for all the districts from August 1," Fadnavis clarified.
"Of the total 43,000 villages, the work of adding digital signatures on 7/12 extract of land of 30,000 villages has been completed. The 13,000 remaining villages will be covered by July month end," said a senior official requesting anonymity.
The 7/12 extract is a part of the land ownership register maintained by the state's revenue department which includes the plot's survey number, the name of the owner, its cultivator, the type of cultivation, transfer of ownership and other details. An essential document, it establishes clear title and ownership and is used widely for all rural and semi-rural land deals.
Till now, land records available online were in a read-only format without a digital signature, and could not be used for official purposes. Anyone who owns property in Maharashtra can download the document from the state government's Mahabhulekh and Aaple Sarkar portals. It will also be available on the Aaple Sarkar mobile application. The digitally-signed land records will also be available on 'DigiLocker', a national digital locker system launched by the central government, said a senior officer privy to the development.
The project is part of the Centre's Digital India Land Records Modernisation Programme (DILRMP), launched in August 2008, to improve transparency and reduce frauds in property deals. The project is expected to make the digital database available with the land records department, sub-registrar offices and tehsil offices across the state.
Every year, the state revenue department gets around 20 lakh applications for land ownership records. Manukumar Srivastava, principal secretary, revenue department said there were lots of mistakes in the 7/12 extract of land documents. "It had become necessary to first rectify these mistakes and then make the records available to people for official use. The government took various initiatives since 2016 for rectification of the records that included Chawdi Vachan, through which villagers are asked to inform the revenue officials if there are any mistake in their 7/12 extract which need to be rectified," Srivastava said.
BOX
How to access land records
You can log on to Mahabhulekh and search for the 7/12 extract by clicking on options for division, district, tehsil, village followed by the name or survey number, a revenue official said.
Close