In Mumbai: BEST to replace safety valves in 250 buses by Feb-end
Published on Feb 07, 2017 12:42 AM IST
After a Brihanmumbai Electric Supply and Transport (BEST) bus was gutted by fire last month, the BEST administration decided to replace the rupture disk, a key component , in 250 compressed natural gas (CNG) buses by the end of the month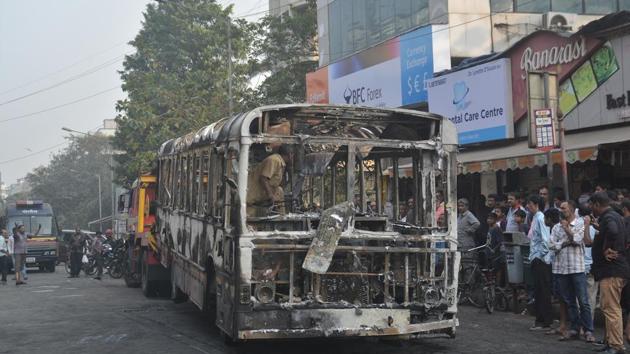 After a Brihanmumbai Electric Supply and Transport (BEST) bus was gutted by fire last month, the BEST administration decided to replace the rupture disk, a key component , in 250 compressed natural gas (CNG) buses by the end of the month.
The administration has already inspected a fleet of 2,900 CNG buses in the special drive for gas leak.
In addition to this, the administration is also checking the brackets that mount CNG cylinders in all buses. In January, a bus plying in route number 396, between Mulund and Andheri, caught fire near Chakala Church around 1.50pm and was completely charred.
The gas leakage was reportedly from the rupture disc, which acts as a safety valve between the cylinder and the gas pipe connecting the engine. Thereby, as a precautionary measure, the administration is also replacing the rupture disk with higher temperature disks.
The affected bus suffered damages of Rs12lakh. The incident could have jeopardised passenger safety but they were asked to immediately vacate the bus after the driver detected gas leakage.
Around 30lakh suburban commuters use the buses daily and any flaw in them could make it unsafe for them, as the BEST is the second largest public transporter in Mumbai Metropolitan Region.
"Replacement of higher temperature rupture disks is going on for the last two years. Majority of buses are fitted with the higher temperature rupture disk and about 250 remain to be fitted by February end. This is done as part of regular maintenance so that the operational fleet is not disturbed," said Suresh Pawar, assistant general manager, BEST transport.
The administration has also started an awareness campaign in depots, on safety measures for CNG buses. Senior officers have started visiting the depots for this purpose. Disciplinary action has also been initiated against the defaulting staff, says a report presented to the BEST committee on Monday.
READ MORE
Better road commute on cards for Mumbai?