Light pollution concerns move from floodlights to billboards in South Mumbai
Apr 11, 2018 11:44 AM IST
Civic official says they have informed Charni Road hospital and will alert traffic department
With rising awareness on light pollution, a south Mumbai resident has filed a complaint about glare from high-intensity lights from a billboard located atop a hospital and medical college at Charni Road. He has claimed that the light remains switched on throughout the night.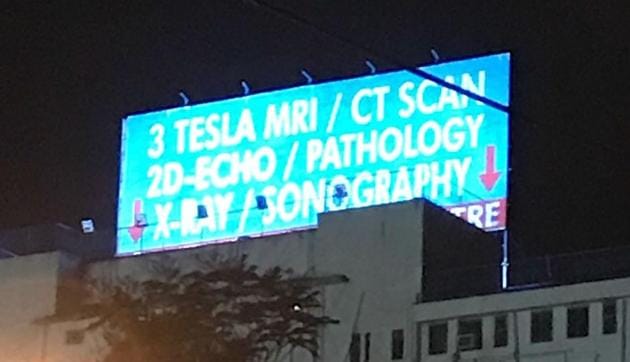 Kalbadevi resident Nilesh Desai, who has filed several complaints with the Mumbai police and the district collector's office regarding lights from Marine Drive gymkhanas, has now filed a complaint with the KG Mittal Ayurvedic College and Hospital in Charni Road regarding the billboard, which allegedly causes light pollution.
Light pollution is the collective term for excessively altered, misdirected man-made light.
Currently, there are no standards for light pollution globally.
"I had taken up the matter with the civic body, which told me that allowing such high intensity lights post-11pm is not allowed. However, the hospital continues to create nuisance for nearby residents by keeping billboard lights on beyond 11pm," said Desai.
The civic body officials said they had told the medical college and hospital authorities to ensure lights are switched off after 11pm. "While we issued permission to set up the billboard, our rules mandate, that such high intensity lights should be off post 11pm. We have told hospital authorities and will be informing the traffic department as the glare from the lights can cause accidents along Marine Drive," said AH Tambe, senior inspectors (license), C ward, BMC.
Doctors said that prolonged exposure to such billboards can cause health problems. "They are dangerous as people directly look at them and it may cause dryness in the eyes, cataract and the retinal layer can get damaged. There need to be immediate steps to reduce their intensity and switch them off by 10pm daily. Cases with regards to this are increasing daily," said Dr Arjun Ahuja, head of ophthalmology department, KEM hospital, Parel.
Officials from hospital and medical college said the billboard had been put up to make people aware about a hospital providing medical facilities late at night.
"It is only to help the public, but since a complaint has been filed we will inform the administrative staff of the hospital to ensure the lights are switched off by 11pm daily," said Dr Ajay Salunke, dean, KG Mittal Ayurvedic College and Hospital.
Regular complaints from Desai over the past year led to an order from the district collector's office in February that mandates Marine Drive gymkhanas to switch off lights by 10pm, and the district administration also wrote to the state asking for light pollution rules similar to noise pollution.
HT has been consistently reporting issues related to light pollution since last year.
"With numerous instances of light pollution now, only a policy measure or safety guidelines can help residents exposed to high intensity lights. The gymkhanas continue to violate the collector's order, and since there are no rules, nobody takes action," said Desai.
Environmentalists said billboards are often placed in locations, where the light enters people's homes and since they are unaware about the health effects they do not say anything.
"These billboards are located in different parts of the city and they need to be switched off on time. It affects the sleep cycle for many, and since there is hardly any awareness, people do not realise how it is affecting them," said Sumaira Abdulali, convener, Awaaz Foundation, which has carried out several studies on light pollution in Mumbai already.
"Exciting news! Hindustan Times is now on WhatsApp Channels
Subscribe today by clicking the link and stay updated with the latest news!"
Click here!