Made in Heaven, written in the dark
Three privileged women wrote this chauvinist male fantasy of how women manipulate men. They chose to strengthen ill-informed stereotypes about women faking trauma and the poor conning their way to wealth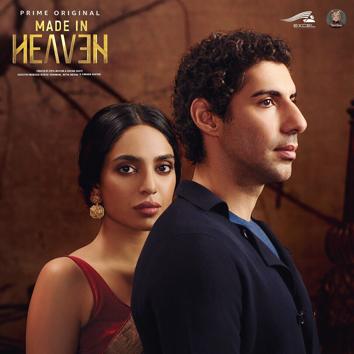 Published on Mar 17, 2019 12:18 AM IST
Hindustan Times |
Deepanjana Pal
If you're browsing through the Amazon Prime home page, you may see a title card for Made in Heaven with actors Jim Sarbh and Kalki Koechlin. If that made you skip the show, here's the good news: Sarbh and Koechlin are only the whitest people on the show, not the leads. Sarbh plays the role of Adil in Made in Heaven, a web series created by Zoya Akhtar and Reema Kagti. Adil is a rich Delhi businessman's son and the husband of Tara (Sobhita Dhulipala), who runs a wedding planning service named Made in Heaven with her friend Karan (Arjun Mathur). The bad news is that if you want to follow Tara's story, you have to endure Sarbh's 'intensity' and Koechlin playing yet another poor little rich girl who is lucky in sex and unlucky in love.
Offering relief from Adil's unblinking stare and confused accent is Mathur as Karan, who is openly gay and finds gorgeous men with unerring regularity. In Made in Heaven we finally see homosexuality grounded in Indian realities, but without melodrama and with scandalous bits in place. Karan's supposed to be the one with the messed-up love life in comparison to Tara and Adil's stable marriage (at least at the start of the show), but long before Adil's missteps, Tara had all my sympathy. Those eyes, that clavicle, that grit, and all she gets is Sarbh as Adil. There is clearly no justice even in this fictional world where people gate crash prayer meetings and wedding planners are a combination of event managers, counsellors and match makers.
As the writers of Made in Heaven, Akhtar, Kagti and Alankrita Shrivatsava fail to capture Delhi accurately. They show what Mumbai thinks Delhi is like, rather than Delhi with its distinctive and deranged charm. However, the trio do write a host of complex and charismatic roles for their cast and the good actors, like Mathur and Dhulipala, camouflage the show's flaws with their performances. Yet, just as you start falling in love with the show, Made in Heaven starts sneaking in its biases, like mocking Jazz (Shivani Raghuvanshi) the assistant for being poor, and encouraging Kabir (Shashank Arora) the videographer to mansplain.
The deepest of disappointments, though, is Tara. She begins as the epitome of elegance, but quickly, cracks appear in her facade. In an effort to add a final twist to the tale, the show reveals its misogynist, elitist heart. Not only is she the secretary who 'stole' Adil from his fiancée, we learn that Tara is the one who anonymously circulated footage of her and Adil having sex in his office so that she could guilt Adil into marrying her.
Three privileged women wrote this chauvinist male fantasy of how women manipulate men. They chose to strengthen ill-informed stereotypes about women faking trauma and the poor conning their way to wealth. This is bad writing and criminally insensitive when the reality is that there is an epidemic of women's privacy being violated in India (and around the world), as the recent Pollachi case shows.
In February, the Tamil Nadu police uncovered a sexual assault and blackmail racket in Pollachi. One of four men would have sex with women (with or without her consent) while the others (hidden from view) filmed the act. Unless the women gave in to the men's demands, the videos would be circulated. The racket was exposed when one victim filed a police complaint. Guess how the police returned the favour? By revealing her name without her consent. The accused, you ask? Oh, they're out on bail.
The Pollachi gang are not outliers, but part of a growing trend. In 2016, Banda Rupesh, 27, was arrested for posting intimate videos of his ex-girlfriend and sending a CD with the videos to her in-laws. In 2017, Animesh Bakshi, 23, was arrested for uploading a nude video of his girlfriend on a pornography website after she broke up with him for blackmailing her. The same year, there were at least two cases of husbands secretly taping and sharing videos of their wives without the women's consent. There's an industry of selling real "rape videos" in Uttar Pradesh. There are no reported cases of women either blackmailing men with their sex videos or graphic photographs, or uploading them as pornographic content without the subject's consent.
This is the reality that makes the fiction in Made in Heaven insensitive, irresponsible and repulsive. That the writers hold a (crazy) mirror to some of society's prejudices doesn't give them leave to hold on to their own biases. It certainly doesn't make it acceptable for them to turn a blind eye to a social problem that is deeply gendered.
Close Story
Personalise your news feed. Follow trending topics