Medical interns in Maha demand 40% stipend hike, go on indefinite strike
Stipend paid to medical interns in Maharashtra is less as compared to the compensation given in West Bengal, Chattisgarh, Kerala, Uttar Pradesh and Uttarakhand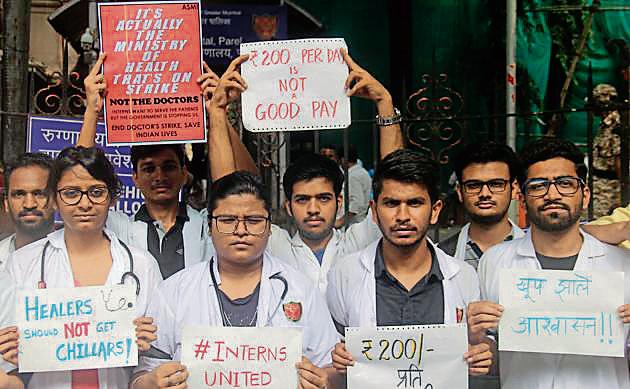 Published on Jun 14, 2018 12:17 AM IST
Hindustan Times |
, Mumbai
Sadaguru Pandit
Around 2,700 medical interns across Maharashtra went on an indefinite strike from Wednesday, demanding a 40% hike in stipend. Protesters said they were promised a raise in 2015, but nothing has happened so far.
There are around 2,500 interns in medical colleges and 200 in dental colleges in the state, who form a major chunk of paramedics and support staff at public hospitals. Interns help in routine procedures such as blood collection, sutures, dressing, reports management and immediate assistance to patients in absence of a senior doctor. They also assist senior doctors during surgeries and follow-ups. Medical interns are students who have cleared MBBS exams and are completing a year of training at the hospital.
Dr Gokul Rakh, general secretary, Association of State Medical Interns, said they had informed the state a month ago about the strike if it failed to meet their demands.
"We have been meeting medical education minister and other officials since May. We don't believe in oral promises because the decision to hike the monthly stipend from ₹6,000 to ₹11,000 was taken on July 15, 2015, but it is yet to be implemented," said Rakh.
Stipend paid to medical interns in Maharashtra is less as compared to the compensation given in West Bengal (₹21,000), Chattisgarh (₹20,000), Kerala (₹20,000), Uttar Pradesh (₹17,900) and Uttarakhand (₹7,500).
"On May 2, we were promised that stipend will be hiked immediately. Now, we won't call off the strike until the promise is fulfilled and we are paid arrears from February 2018 onwards," Rakh added.
While the strike by interns has added to the workload of resident doctors and nursing staff, officials said there is no major inconvenience to the patients.
"Since we follow the state norms for remuneration of doctors, we personally can't make changes to the stipend paid at present. The hospital is running smoothly and no major inconvenience is reported owing to their [interns] absence," said Dr Avinash Supe, director medical education, Brihanmumbai Municipal Corporation.
Dr Pravin Shingare, director, Directorate of Medical Education and Research, said they have accepted all the demands of the interns, but final decision can only be taken once Chief cinister Devendra Fadnavis is back from his US-Canada visit.
"The decision has to be passed in the cabinet in front of CM. So we will have to wait until he is back but unfortunately we cant offer any written assurances at this moment," said Dr Shingare.
Close Story