MIDC to deal with pollution in Ulhas creek
MIDC plans to increase the capacity of the common effluent treatment plants (CETP) in Dombivli MIDC within a year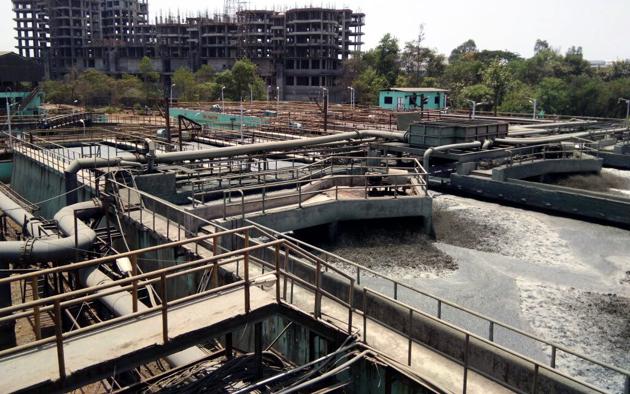 Published on Apr 13, 2018 12:53 AM IST
Water pollution in Ulhas creek by factories in Dombivli is set to reduce as the Maharashtra Industrial Development Corporation (MIDC) has prepared a Rs100-crore plan to control it.
MIDC plans to increase the capacity of the common effluent treatment plants (CETP) in Dombivli MIDC within a year. This will help treat more effluents before they are released into nullahs which finally meet Ulhas creek. "We have come up with a Rs100-crore plan to improve the capacity of the CETPs in a year. This will help treat the effluents efficiently. The tenders for this work will be floated soon," said an officer of MIDC, Dombivli, requesting anonymity.
The development plan report has been prepared by a Singapore-based consultant which studied the CETPs' functioning. There are two CETPs in Dombivli MIDC region – one in phase 1 and another in phase 2 – which treat effluents of 375 factories daily. Of these, 120 are chemical units, 70 are fabric production units. The CETP in phase 1 has a capacity of treating 16mld of effluents and the one in phase 2 can treat 1.5mld of effluents.
Since the capacity of the latter is less, at least 4mld of effluents from phase 2 is sent to phase 1 CETP, overburdening it.
The work for increasing the capacity of the CETPs and their maintenance will be given to a private company on a contract-basis for five years.
The MIDC will spend 75% for the project while factories will spend 25%. The upgradation will be done considering the demand for the next 15 to 20 years.
Once complete, pollution caused by factories in Dombivli MIDC will reduce to a remarkable extent, claim officials.
"It will take at least 10 to12 days for the tenders to be floated," said SR Patil, deputy engineer, MIDC, Dombivli.
Mumbai-based NGO Vanshakti has been fighting against pollution in Ulhas river through its 'Save Ulhas River' project since 2012. In November 2013, the NGO approached National Green Tribunal (NGT) complaining about the violations of environmental norms.
"The project plan is pending for more than five years. Unless effluents are treated at an individual level at every factory, there is no point in upgrading the CETP," said Ashwin Aghor, project officer, Vanshakti's 'Save Ulhas River' project.
"The chemical oxygen demand (COD) level of the effluents released by each unit is more than the permissible limits. This is because the units' production is more than the limit," he said.
Rajesh Joshi, chief executive officer, Dombivli Better Environment System Association (DBESA) said they had been demanding the expansion since the past two and a half years.
ABOUT THE CETPs IN DOMBIVLI
Dombivli Better Environment System Association CETP in phase 1 of Dombivli MIDC
Location: Opposite Savitribai Phule auditorium , Dombivli MIDC
Dombivli Chemical CETP in phase two of Dombivli MIDC
Location: Near Abhinav School, Dombivli MIDC
ULHAS IN TROUBLE
The Ulhas River provides drinking water to nearby cities. However, it is facing pollution because of untreated effluents discharged into it by factories and CETPs across Kalyan-Dombivli, Ulhasnagar and Ambernath cities.
WHAT TRIGGERED THE MOVE
In March 2016, National Green Tribunal (NGT), Pune had ordered the Central Pollution Control Board (CPCB) to conduct surprise checks at Dombivli and Ambernath MIDCs and submit reports. CPCB in its affidavit filed on February 29, 2016, to the NGT clearly stated that the CETP operated by the DBSEA in phase 1 is not upto the mark. NGT had passed an order asking the CPCB to ensure proper functioning of the CETP in Dombivli and Ambernath regions.
The order by the NGT stated that the CETPs are not performing well and there has been no consequential action by the Maharashtra Pollution Control Board (MPCB) in this regard. It said there is a need for joint inspection of the CETPs by CPCB and MPCB. It said they need to meet CETP operators with the fact findings to identify ways of effective implementation.
The affidavit filed by CPCB at the NGT clearly mentions that there has been no improvement in the functioning of industries and the CETP. The outlet COD of the CETP is 2,000 mg/l when it should be 250mg/l
Close Story