Monday's air was the worst Mumbaiites inhaled since welcoming 2018
Updated on Jan 16, 2018 09:52 AM IST
Six of 10 locations in Mumbai recorded 'very poor' AQI on Monday, with Bandra-Kurla Complex being the most polluted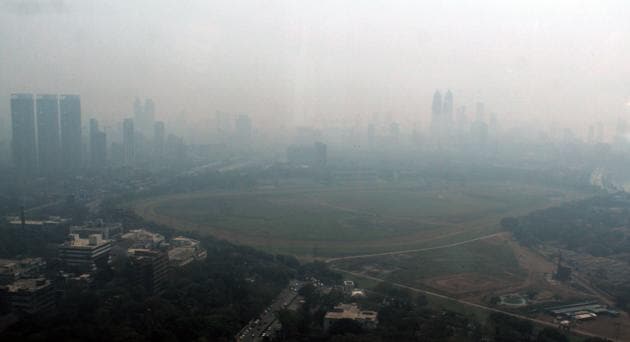 The city recorded its worst air day, since the beginning of this year, on Monday. The pollutant-measuring indicator — air quality index (AQI) — saw a significant increase in pollution as compared to the levels recorded over the weekend. Against the moderate level of 190 on Sunday, the AQI recorded on Monday was to 253 (poor).
Prior to Monday, Mumbai recorded 'poor' AQI levels during the first week of January — ranging between 216 and 240. On January 1, the city had recorded an AQI of 220 which later dropped to 216. However, the worst AQI for the winter season was recorded on December 25 — it was 258 (poor).
Six of 10 locations in Mumbai recorded 'very poor' AQI on Monday, with Bandra-Kurla Complex (BKC) being the most polluted at 313, followed by Andheri, Colaba, Malad, Mazagaon, and Borivli. Chembur recorded the cleanest air in the city at 123 (moderate).
The System of Air Quality Weather Forecasting and Research (SAFAR) pegged AQI in the 'moderate' category for Tuesday at 172.
Researchers said weather factors were not responsible for 'poor' AQI and attributed the rise in pollution to external emissions. "Residential biomass burning could be the most probable reason for rise in pollution in Mumbai. Small fires during Makar Sankranti celebrations or other sources of open burning could have led to the spike. However, since it is an external factor, and wind speed, temperatures are high, pollution levels will reduce by Tuesday," said Gufran Beig, project director, SAFAR.
Residential biomass burning was responsible for 2,68,000 deaths in 2015. Also, at 24%, it was the largest source of PM 2.5 air pollution-related health impact in India and most important single anthropogenic source of mortality due to air pollution. This was revealed by a joint study by Indian Institute of Bombay (IIT-B), and two US-based research institutes — Health Effects Institute (HEI) and Institute for Health Metrics and Evaluation (IHME).
The study also found that coal combustion, agricultural burning, anthropogenic dusts, transport, other diesel, and brick kilns also contributing significantly to the 1.1 million deaths in India due to air pollution in 2015 (see box).
The concentration of PM2.5 and PM10 was almost twice the safe limit. As against safe limit of 60 microgrammes per cubic metre (µg/m3), Mumbai recorded 110µg/m3. For PM10 (slightly larger, coarser particles), Mumbai recorded 193 µg/m3 as against 100 µg/m3 as the safe limit.
Mumbai sizzles
Temperatures across Mumbai were similar to previous days. The day temperature at Colaba was 32 degrees Celsius — 2.5 degree Celsius above normal — and 33.1 degrees Celsius at Santacruz, almost 3 degrees Celsius above normal.
The night temperature at Santacruz was 4.1 degree Celsius above normal at 21 degrees Celsius as compared to 21.8 degrees Celsius on Sunday, which was the second highest night temperature for January in the past decade. Colaba recorded 22.5 degrees Celsius on Monday, which was 3.4 degrees Celsius above normal.
Moisture levels continued to be high for the third day in a row with 93% humidity at Colaba and 89% at Santacruz. The weather bureau has predicted a clear sky for Tuesday, with day and night temperatures expected to be 33 and 20 degrees Celsius.
Close Story
Personalise your news feed. Follow trending topics